Verified
ALF protocol x Secretum ($ALF + $SER) Airdrop
To celebrate their partnership, ALF protocol x Secretum are launching a giveaway worth a total of 2,000 $SER & 250,000 $ALF tokens (~$ 2,000) for 50 lucky participants.

About ALF protocol & Secretum

ALF protocol aims to become the go-to place for blockchain liquidity, initially launching on Solana and then potentially expanding to other chains. ALF is a family of protocols connecting traders and investors of varying risk appetites to facilitate liquidity flows and maximize capital efficiency for all stakeholders. ALF protocol is featured on CoinTelegraph.
Secretum is a decentralised, encrypted messaging and OTC trading ÐApp. Secretum is on a mission to make decentralized messaging and trading seamless. It is DeFi and Metaverse compatible, being positioned as the go-to solution for the Web 3.0 era. Secretum offers validation through wallet, OTC, P2P trading including NFTs & access to smart public channels. Secretum is featured on CoinTelegraph.
How to join the ALF protocol x Secretum Airdrop?
Total Airdrop Allocation 2,000 $SER + 250,000 $ALF (~$ 2,000)
Number of Winners 40 $SER + 5,000 $ALF each for 50 Random Lucky Winners
Airdrop Deadline Monday, 4th of April, 10:00 PM UTC
Requirements to earn free crypto coins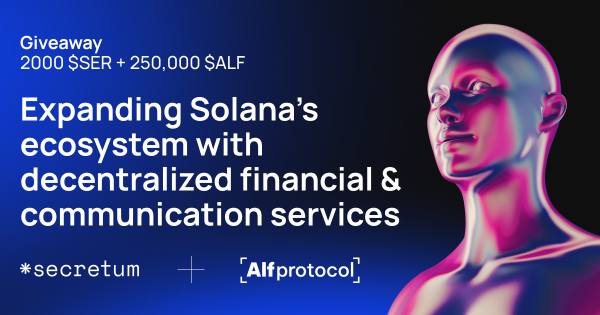 Native blockchain
Estimated value
~$ 2,000 Prize pool
ALF protocol - Unofficial Video Review