Verified
Astra Nova ($RVV + Mint Pass) Airdrop
Astra Nova Airdrop is worth 30 Million $RVV tokens (~$ 240,000) & @TheDeviantsNFT Mint Pass Allowlists.
The Deviants are a collection of 10,000 bio abominations inhabiting @Ethereum & @Hedera. The Deviants Mint Pass grants its owner early access to the Deviants NFT Mint at a lower price than the public mint price and gets guaranteed Airdrop rewards.

About Astra Nova

Astra Nova is a global Web3 Gaming company focused on creating lasting community value for avid gamers and NFT enthusiasts. They're building a true MetaRPG gaming experience, based on the core Web3 principle of blockchain-powered interoperability & transparency.
Gamers will have front-row seats to behind-the-scenes story writing, conception, development & testing. Bringing this to life is a team of industry veterans in game development, award-winning creatives & leaders in brand marketing.
How to join the Astra Nova Airdrop?
Requirements to earn free crypto coins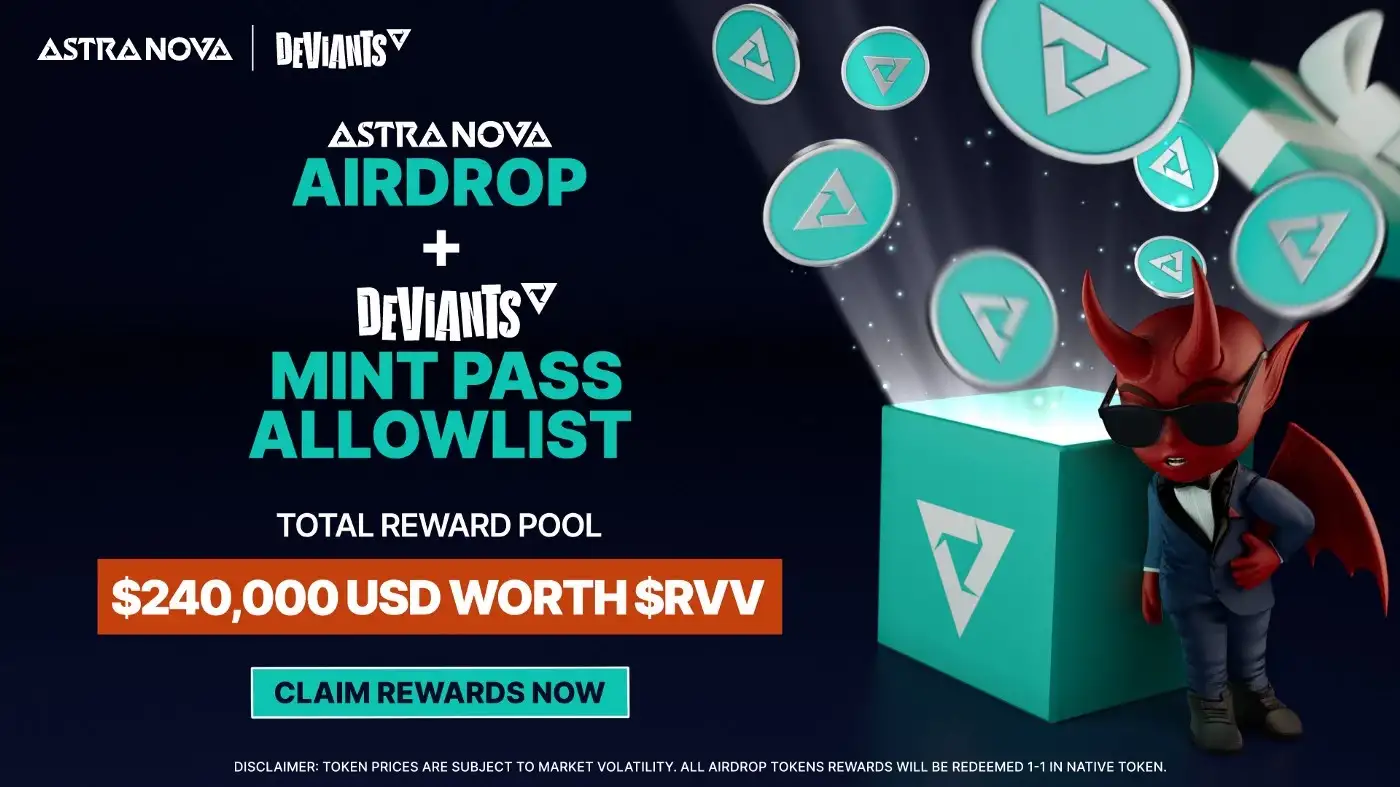 Native blockchain
Step-by-Step Guide ''Astra Nova Airdrop''
Head to the Astra Nova Airdrop form, powered by @HeyMintxyz.
Connect your Twitter account & Follow @Astra__Nova & @TheDeviantsNFT on Twitter.
Like & retweet @Astra__Nova's Tweet (retweet only - quote tweets do not count).
Join Astra Nova on Discord & Connect.
Connect your ETH wallet which will have a chance to be added to the allowlist and confirm your level of interest in purchasing a Deviants Mint Pass.
Submit your Email & Hedera wallet address to receive the $RVV Airdrop. You will be eligible for Tier 3 Airdrop.

▪️ Total Reward Pool: 30,000,000 $RVV (Worth 240,000 USD at TGE):
🏆 Tier 1 - 20,000 $RVV each for 150 winners. 🏆
🥈Tier 2 - 3,000 $RVV each for 4,000 winners 🥈
🥉Tier 3 - Total 15,000,000 $RVV for 20,000 winners🥉

▪️ Lucky winners will be selected to get the Deviant Mint Pass. Users on the allowlist can then buy 1 Deviants NFT to get a guaranteed Tier 2 Airdrop reward or buy 3 Deviants Mint Pass NFT to get a guaranteed Tier 1 Airdrop. Winners will be notified via email. Stay tuned!
* 40% of airdropped tokens will be unlocked at Token Generation Event (TGE), and the remaining will be subject to a vesting schedule and will undergo a 6-month linear unlock, during which time the unlocked tokens will be deposited into the Hedera wallet address provided on the Airdrop form.
When using decentralized applications (ÐApps), it's critical to remember that YOU are responsible for the security of your digital assets!
Disclaimer: Investors should take the time to research any given product before they invest their funds (DYOR).
Estimated value
~$ 240,000
Additional ICO information
Mint Pass event date 3rd January, 2023
Allowlist Deviants Mint Pass 0.099 ETH
Deviants Public Mint Price 0.20 ETH