Verified
Backstage x Xmanna x Ground Zero x AHAU ($BKS / $XMAN / $BUSD, Whitelist spots, NFTs) Airdrop
Backstage & Xmanna Metaverse Madness Contest has a combined $200K+ worth of Rewards in $BKS & $XMAN, Metaverse Lands, NFTs and Vacation Stays to celebrate the partnerships with Ahau Collection and Ground Zero to revolutionize the entertainment industry. Backstage & Xmanna partnership is featured on AMBcrypto.com.
They also hope to generate excitement for Backstage and XMANNA's upcoming IDOs and Ahau's journey into NFTs and the metaverse.

About Backstage & Xmanna

Backstage is a decentralized ecosystem powering the events industry via NFT ticketing platform and metaverse, partnered with hundreds of venues and clubs around the world. $BKS is a fluent token for the event industry with the newness of blockchain and the NFT concept.
Xmanna utilizes lightning-fast transaction speeds and very low transaction costs helping push the Polygon network forward by utilizing its bridging capabilities and creating interoperability through gaming and sports by connecting other networks to the XMANNA ecosystem through this technology. They are bridging the $XMAN token to Ethereum, Binance Smart Chain, Avalanche, Solana, and other prime networks.
How to join the Backstage x Xmanna x Ground Zero x AHAU Airdrop?
Requirements to earn free crypto coins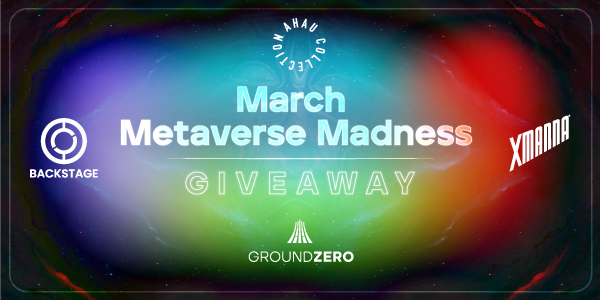 Native blockchain
Estimated value
~$ 200,000 Prize pool
Backstage - Video Trailer