Closed
Verified
8000 Stellar USDC Promo ($Stellar USDC) Airdrop
It looks like you are too late! This airdrop is closed
Looking for new airdrops?
Visit our Featured & New Airdrops pages.
CEX·IO just launched the 8,000 $Stellar USDC Promo! CEX·IO is offering users the opportunity to earn an additional 50 Stellar USDC simply by depositing Stellar USDC and maintaining a minimum balance by the deadlines.

About CEX·IO

CEX·IO is a fully regulated multi-functional cryptocurrency exchange established in 2013, serving over 4 million customers worldwide. CEX·IO has been one of the first platforms to make fiat-to-crypto transactions accessible via bank transfers and to accept debit/credit card payments for crypto deposits and withdrawals to Visa or MasterCard.
CEX·IO was named 'Best Exchange' in the Inaugural European Digital Assets Awards by Hedgeweek. Also named 'Best Overall DeFi Platform' in 2022 by FinTech Breakthrough Awards Program, among other awards...
How to join the 8000 Stellar USDC Promo Airdrop?
Requirements to earn free crypto coins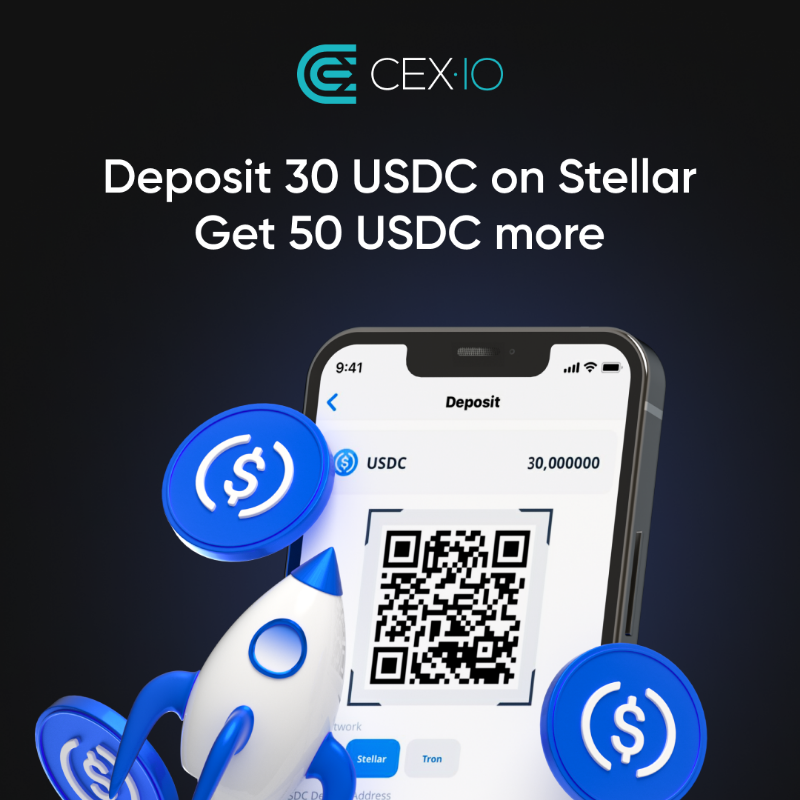 Native blockchain
Step-by-Step Guide ''8000 Stellar USDC Promo''
Earn 50 $Stellar USDC rewards when you deposit and maintain a balance of at least 30 $ Stellar USDC on CEX·IO. To be eligible, you must complete each of the following steps by the deadlines:
Head to the CEX·IO Stellar USDC Promo page.
Deposit 30+ USDC in the Stellar network by November 9, 2022, 11:59 PM UTС. Both MEMO & Address are required to deposit Stellar USDC.
Maintain a daily balance on CEX·IO of at least 30 USDC through November 13, 2022.
Follow CEX·IO on Twitter.
Retweet the announcement Tweet & Tag 2 friends including the hashtag #USDCrewards.
Once you've completed all the steps, fill out the brief form to confirm your participation.

▪️ CEX·IO will notify by email the first 160 qualified users who meet the requirements above within the time allotted and reward them with 50 USDC deposited directly into their CEX·IO account. You have to be verified Level 2 on CEX·IO. Good Luck!
Stellar USDC combines the power of the Stellar network with a fully backed and trusted digital US Dollar asset. Now, dollars can move anywhere, to anyone, in the form of Stellar USDC, and convert instantly into and out of the world's currencies. Stellar USDC is issued by regulated US financial institutions, backed by fully reserved assets, and redeemable on a 1:1 basis for US dollars.
Disclaimer: When using decentralized applications, it's critical to remember that YOU are responsible for the security of your digital assets!
Estimated value
~$ 8,000 Prize Pool
How to earn rewards just by holding crypto | Staking explained | CEX·IO Video Tutorial