Verified
CosoSwap ($COT) Airdrop
CosoSwap Airdrop prize pool is worth 100,000 $COT tokens (~$ 20,000) for 1,851 lucky winners to celebrate the token launch.

About CosoSwap

CosoSwap is the first aggregation trading platform that spans multiple mainstream public chains such as BSC, HECO Chain, OKT, Ethereum and Solana. A one-stop DEX that integrates smart aggregated multi-chain transactions, smart-contract guaranteed order book transactions, smart contract detection tools, and NFT Launchpad, which is the core function of CosoSwap, featuring a protection mechanism for users. The active market maker algorithm (PMM) is used to provide liquidity on a pure chain and contract composability.
$COT is the pre-requisite token to maintain the normal operation of CosoSwap, a deflationary token with 7 burning mechanisms that allow its holders to earn passive income in many scenarios.
How to join the CosoSwap Airdrop?
Total Airdrop Allocation 100,000 $COT for 1,851 lucky winners
Airdrop End Date 10 July 2022
Airdrop Distribution 12 July 2022
Requirements to earn free crypto coins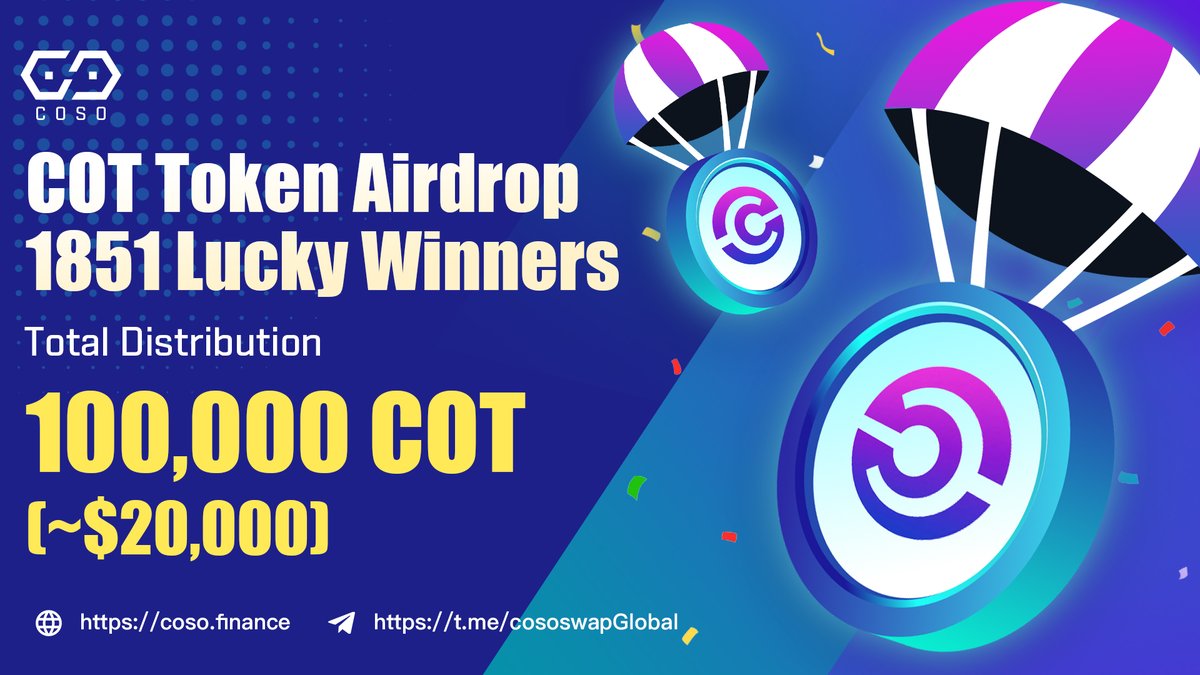 Native blockchain
Step-by-Step Guide ''CosoSwap Airdrop''
Head to the CosoSwap Airdrop form.
Follow @CosoSwap on Twitter & Retweet the pinned post.
Join CosoSwap🇨🇳 & CosoSwapGlobal on Telegram.
Click this link to calculate your gas fee. No need to connect your wallet.
Submit your BSC Wallet address and details to the Form.

▪️ 🏆 🏆 🏆 🏆

🥇1st prize: 1,000 $COT for 1 lucky winner
🥈2nd prize: 500 $COT for 10 lucky winners
🥉3rd prize: 100 $COT for 40 lucky winners
🏅50 $COT for 1,800 lucky winners

Like and share the CosoSwap Airdrop on your favourite SM!
When using decentralized applications (ÐApps), it's critical to remember that YOU are responsible for the security of your digital assets!
Estimated value
~$ 20,000
Additional ICO information
Initial Supply 5,000,000 $COT
Maximum Supply 36,536,000 $COT
Blockchain Network Binance Smart Chain (BEP-20)