Verified
Goons of Balatroon round 2 (Bonus Card Packs) Airdrop
Goons of Balatroon NFT Giveaway is worth 1,000 Free Bonus Card Packs.

About Goons of Balatroon

Goons of Balatroon is a virtual world where players can engage in strategic battles with a carefully crafted deck of cards. It is a place where players can choose to join either the Bulas or the Bairs faction and find the Goon that is right for them as they navigate through the challenges presented by the elements on the battlefield. Players can earn $GOB, the in-game currency that fuels the entire Goon ecosystem, by simply playing the upcoming Goon Play2Earn game.
Goon Avatar NFTs and Goon Bods NFTs generate GOB token rewards daily, as long as they are delisted from marketplaces such as OpenSea and held in a cold wallet. There's no need to perform any further actions or spend any gas. It is that simple! These NFTs are the backbone of the upcoming Play2Earn game!
How to join the Goons of Balatroon round 2 Airdrop?
Requirements to earn free crypto coins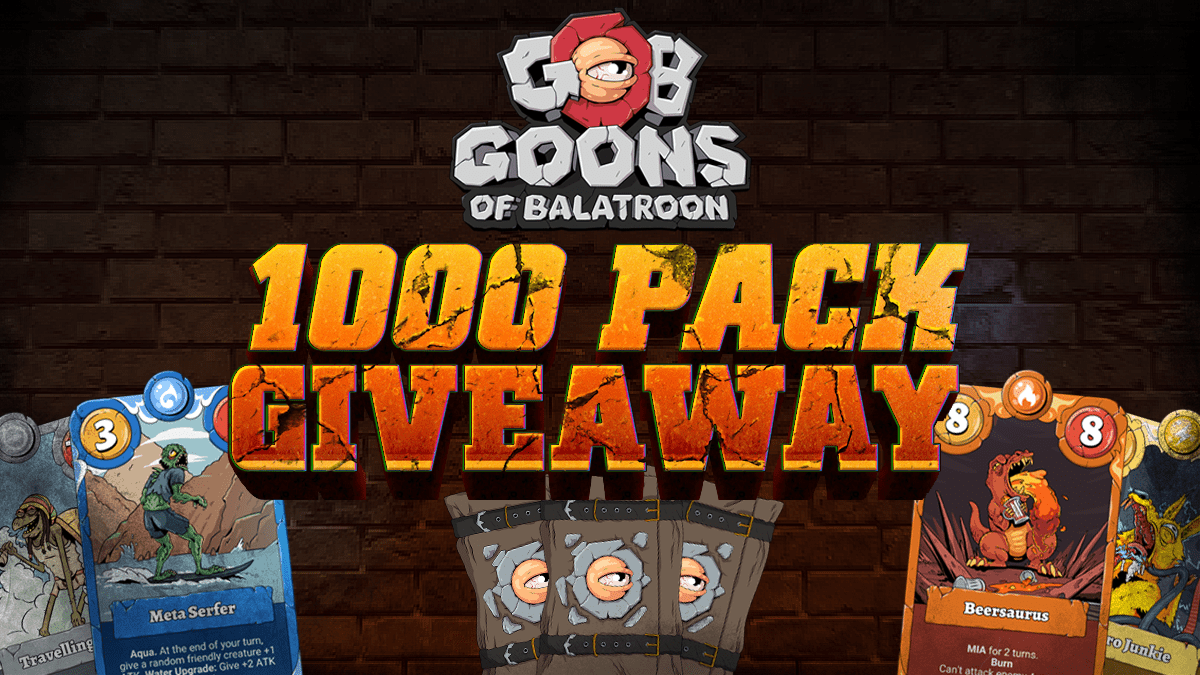 Native blockchain
Step-by-Step Guide ''Goons of Balatroon NFT Giveaway''
Visit the Goons of Balatroon NFT Giveaway Gleam page.
Perform more optional tasks & Invite your friends to earn extra entries.

▪️ Over the course of the next two weeks, exciting games, activities, and contests will be held. Over 1,000 Goon Cards are up for grabs, and it's the community that will reap the rewards. There will be daily Discord activities: trivia, quests, twitter raids, and more. 60 packs a day are up for grabs, with a total of 840 over the course of the event!

🏆 Total Rewards: 1,000 packs:
🎁 60 packs every day (840 total)
🎁 160 packs allocated to the gleam-io raffle!

▪️ HODL a Goon and earn 10 $GOB tokens per day. HODL a Bod and earn 10 tokens per day. HODL a Goon+Bod and earn 22 tokens per day!
▪️ Additionally, users may opt to stake $GOB and receive additional rewards for stabilizing the economy or leasing their Goon NFT to other players and sharing their game rewards.
The token will be released to the public in the upcoming few months, but in the meantime, users can accumulate token rewards while waiting for the claiming process to begin.
Like and share the Goons of Balatroon NFT Giveaway on your favourite SM!
When using decentralized applications (ÐApps), it's critical to remember that YOU are responsible for the security of your digital assets!
Disclaimer: Investors should take the time to research any given product before they invest their funds (DYOR).
Estimated value
n/a
Goons of Balatroon - Trailer