Verified
LunaFi x Housebets ($LFI) Airdrop
Calling all cryptocurrency gambling enthusiasts! LunaFi, the leading decentralized betting protocol in the DeFi world, is airdropping 100,000,000 $LFI tokens (worth $600,000) to eligible wallets across 250,000 addresses.
Don't miss out on this incredible opportunity to claim your share of LunaFi's Season 1 Airdrop! The claim process will begin on April 27, 2023, so be sure to mark your calendars and get ready to claim your free tokens.

About LunaFi & Housebets

LunaFi is a revolutionary upgrade to traditional betting platforms, offering a decentralized and peerless DeFi betting protocol that provides users with a secure and trustless environment to gamble, invest, and for the first time ever, become the house.
Housebets.io, the first ÐApp built on the LunaFi protocol, is a non-custodial gambling platform that utilizes LunaFi's smart contracts and liquidity pools to ensure trustless payouts, removing all counterparty risk.
How to join the LunaFi x Housebets Airdrop?
Requirements to earn free crypto coins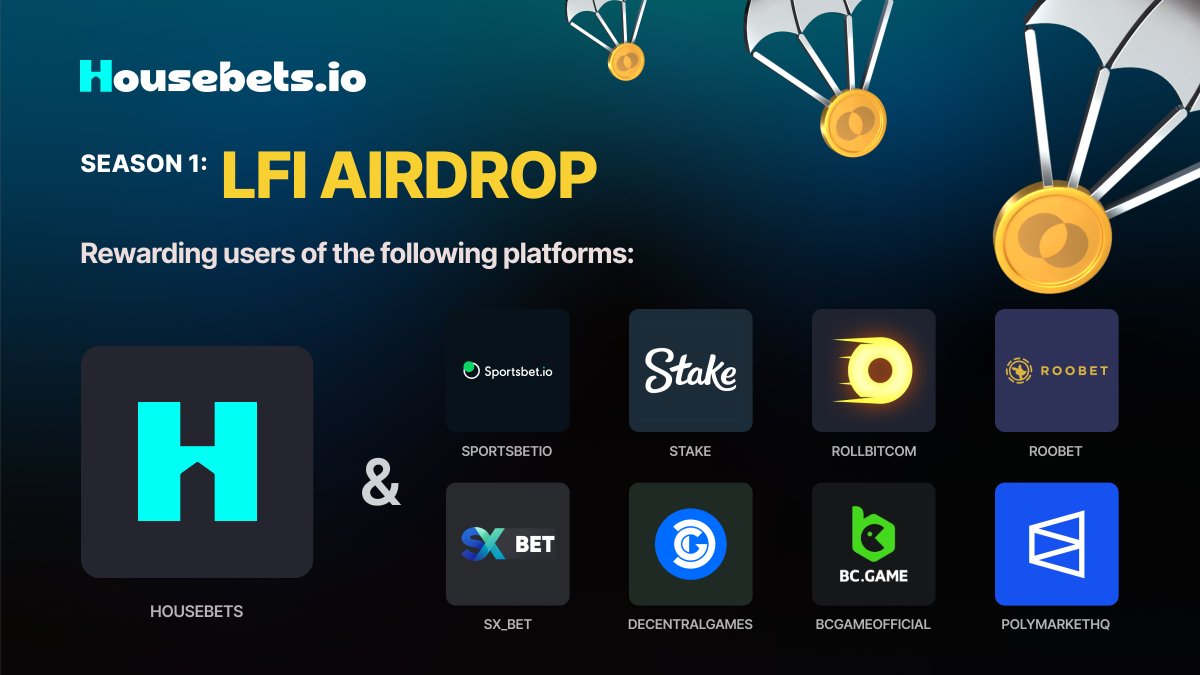 Native blockchain
Step-by-Step Guide ''LunaFi Season 1 Airdrop''
If you deposited at least $50 by March 31, 2023, at Housebets, Rollbit, Stake, SX Bet, BC Game, Polymarket, Decentral Games, Sportsbet, Zcasino, or Roobet, you could claim between 25,000 and 500,000 $LFI tokens.
Don't worry if you miss Season 1, start betting now to be ready for Season 2 Airdrop!
Visit Housebets.io and click on "Login" to connect your wallet.
Check if you're eligible by visiting the Airdrop page. The snapshot was taken on March 31, 2023, and the claim will be live on April 27.
If you meet the eligibility criteria, simply click on the "Rewards" tab to claim your Airdrop. The amount of $LFI tokens you receive will be determined by your degen score, which takes into account factors such as your total deposits, activity level, diamond hands on other Airdrops, etc. The Airdrop amount ranges from 25,000 to 500,000 $LFI tokens.
All unclaimed $LFI will roll over to Season 2 of the Airdrop, which will be available only to Housebets.io users. Season 2 will focus on Sports & Casino Turnover, Net Deposits, $LFI Deposits, Race to Mars Podium Finisher (The daily leaderboard will be live on April 13), and House Pool Deposits on LunaFi.
Don't forget to follow @LunaFi_Project and @Housebets_io on Twitter to stay updated with the latest news and updates regarding the Airdrop and other exciting events. Best of luck with your bets and enjoy claiming your free $LFI tokens!

▪️ Start earning money effortlessly by sharing your referral link with friends! Housebets.io's affiliate program offers you the opportunity to earn a commission on all bets placed on both the Casino and Sportsbook when your friends register and play through your link.
* Best of all, you'll earn a commission regardless of whether they win or lose. This sets it apart from traditional affiliate programs that only pay out based on wins or losses. Don't miss out on this easy money-making opportunity!

When using decentralized applications (ÐApps), it's critical to remember that YOU are responsible for the security of your digital assets!
Disclaimer: This content is not intended to be financial advice. Investors should take the time to research any given product before depositing or investing their funds.
Estimated value
~$ 600,000
George Porchester, Founder and CEO of LunaFi - Video Interview