Verified
Magic Square ($SQR, $USDT, NFTs...) Airdrop
Magic Square welcomes you to embark on an Epic Quest with the Zealy Campaign!
Engage, participate, and seize the opportunity to claim your share from the extraordinary 1,000,000 $SQR prize pool. Join now and let the enchantment begin!

About Magic Square

Magic Square is the first Crypto App Store in the world, revolutionizing the market with its cutting-edge platform exclusively designed for the ÐApps ecosystem. At its core is the Magic Store, which showcases a comprehensive and curated selection of Web3 Blockchain Apps and Games, featuring incredibly lucrative Use2Earn features and exclusive Hot Offers to access special promotions and discounts.
Magic Square is backed by industry titans such as Binance Labs, Republic Captial, Crypto.com Capital, KuCoin Labs, Huobi Ventures, Gate.io Labs, GSR, DaoMaker, IQ Protocol, and more.
How to join the Magic Square Airdrop?
Requirements to earn free crypto coins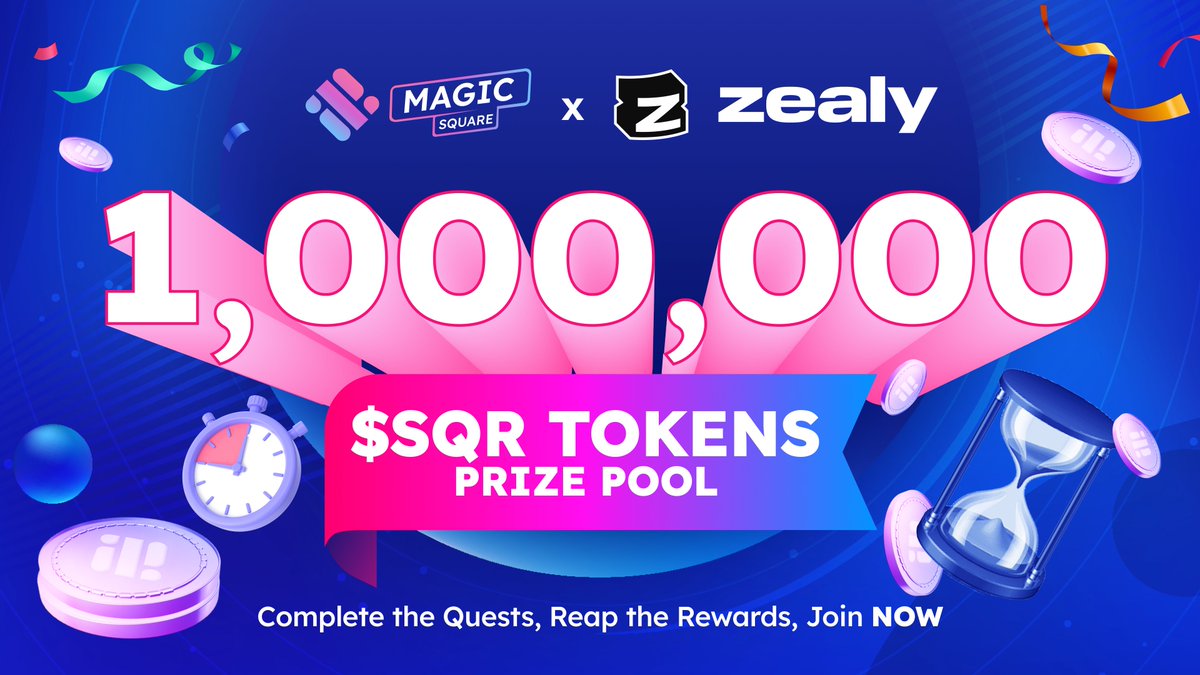 Native blockchain
Step-by-Step Guide ''Magic Square Zealy Campaign''
The Zealy campaign is designed to reward participants as they transition from Public Beta to the launch of the Magic Square Token, $SQR. To participate, follow these steps:
Visit the Magic Square Zealy page and connect your Metamask wallet.
Create a Magic Store account using your Zealy-connected wallet. Verify your Email, select a username, and upload a profile picture. Once your account is fully verified with a MagicID, you can start earning Karma points for exciting $USDT rewards.
Follow @MagicSquareio on Twitter and join their Telegram Channel, Group, and Discord.
Add the Magic Square $SQR Token to your watchlist on CoinMarketCap and CoinGecko.
Scroll down to explore additional quests and earn XP Points to boost your progress.
Optionally, you can participate in the Magic Square TaskOn campaign to win a FREE Gas-less CAP NFT. You can also earn Loyalty Points and unlock exclusive benefits for your favorite projects by participating in their Galxe campaigns.

▪️ The 1,000,000 $SQR token prize pool will be distributed after the token launch. Please note that it is NOT launched yet. Be cautious of scammers!
* There will also be "sprints" offering rewards such as $USDT, NFTs, and exclusive prizes. Holders of the Special Magic Validator OAT Badge gain access to exclusive raffles.

When using decentralized applications (ÐApps), it's critical to remember that YOU are responsible for the security of your digital assets!
Disclaimer: This content is not intended to be financial advice. Investors should take the time to research any given product before depositing or investing their funds.
Estimated value
N/A
Additional ICO information
Total Supply 1,000,000,000 $SQR
Blockhain BNB Smart Chain
Markets TBA
Earn SQR Tokens by using the Magic Store - Video