Verified
Blur.io Season 2 Airdrop ($BLUR)
Attention all Blur community members! The much-anticipated BLUR.io Season 2 Airdrop is now live and is expected to be much bigger than the first Blur Airdrop, with a distribution of 360,000,000 $BLUR tokens (equivalent to approximately $360,000,000). If you have traded NFTs, hold a Care Package, or created any collections that have been traded on Blur in the past few months, you can now claim your Airdrop by visiting BLUR.io/Airdrop.
Please note that there are SCAM links circulating, so be cautious and double-check the URL and Twitter handles before taking any wallet actions. To stay safe, it's best to type out any links yourself.

About Blur.io

BLUR.io is a zero-fee NFT marketplace for pro traders, backed by @Paradigm. It features a real-time aggregator that allows for sweep and list across multiple NFT marketplaces, snipe reveals, and faster portfolio management. BLUR is the first marketplace to offer advanced trading tools at no cost and incentivized royalties.
The $BLUR token gives the community control over the protocol's value accrual and distribution. To foster community-led growth for the protocol, the BLUR.foundation has been established, with @Zeneca and @PacmanBlur serving as directors. The BLUR team, which includes experienced professionals from MIT, Citadel, Brex, and Square, has raised over $14 million from world-class investors.
How to join the Blur.io Season 2 Airdrop ?
Requirements to earn free crypto coins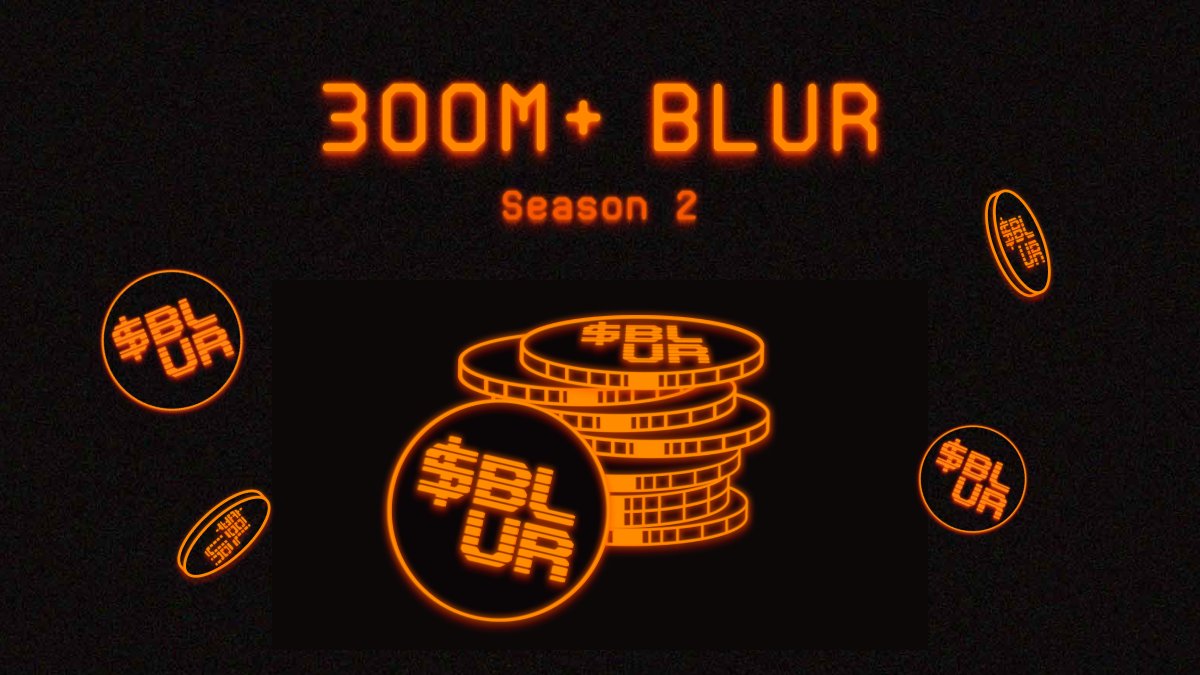 Native blockchain
Step-by-Step Guide ''Blur Season 2 Airdrop''
The BLUR.io Season 2 Airdrop is now live with a whopping 360,000,000 $BLUR tokens (~$ 360,000,000) up for grabs. But that's not all – Care Packages from the First Blur Airdrop can now be opened, adding to the excitement. To maximize your loyalty and earn the chance to claim Mythical Care Packages, worth 100x Uncommon Care Packages, follow these simple steps:
List your NFTs for sale and/or participate in auctions on the BLUR.io marketplace, using the advanced listing tools to list everywhere in one go. All bidding and listing points are doubled until April 4th, 2023. Make sure to list using Blur to maintain a 100% loyalty score.
Use the new "maximize loyalty" button to remove your third-party listings and get your loyalty score to 100% in a single transaction. In Season 2, having listings anywhere else will prevent you from achieving a 100% loyalty score.
Listing rewards will be as large as bidding rewards. The more you list, the more you earn. Listing blue chips helps, and listing more active collections helps. Use the listing tools to list by floor price, trait floor, and ladder list. (Max listing points = listings x loyalty)

▪️ Note: Please avoid attempting to manipulate the system by relisting NFTs at unrealistic prices, engaging in sybil attacks, or listing inactive collections. It's recommended to list and bid using the same wallet. Best of luck!
* P.S. If you were on the waitlist back in May 2022 and earned Blur points, or participated in the private beta, you've automatically received an extra Airdrop allocation. Congratulations!

▪️ Don't forget to check out the exciting DeFi Testnet campaigns with potentially huge rewards for testing new cutting-edge blockchain products. Don't miss out on the opportunity to take your portfolio to the next level!
Disclaimer: As with any investment, it is important for investors to thoroughly examine any product before depositing or investing their funds. When using decentralized applications (ÐApps), it is critical to remember that the security of your digital assets is solely your responsibility.
Estimated value
~$ 360,000,000
Additional ICO information
Total Supply 3,000,000,000 $BLUR
Blockchain Ethereum
Markets Coinbase, Kraken, Uniswap, Sushiswap, DigiFinex, OKX...
Blur NFT marketplace: will it KILL Opensea? - Video