Verified
Iskra ($ISK + $USDT)
@Iskra_World is thrilled to reveal its latest Airdrop campaign! Join the Iskra community and complete tasks for a chance to win a share of the 5,500 $USDT + 5,500 $ISK prize pool. Don't let this opportunity pass you by!

About Iskra

Iskra is a blockchain gaming hub that connects gamers and game studios on a single platform, allowing users to explore and enjoy high-quality blockchain games while building their own community, and trading in-game tokens and other assets.
The Iskra Hub Chain serves as the mainnet blockchain that supports Launchpad, NFT Marketplace, and other essential services within the ecosystem, while the Bridge provides a secure and trustless connection between the Iskra Hub Chain and external blockchains.
The Iskra ecosystem has three native tokens - ISK, the governance token; iUSD, the stablecoin designed to maintain a stable value of 1 USD; and Pioneer NFT, a non-fungible token that provides holders with the right to participate as a node operator.
Overall, Iskra is the perfect platform for gamers who want to explore new games, with a strong focus on the development of the blockchain gaming industry.
How to join the Iskra ?
Airdrop Prize Pool 5,500 $USDT + 5,500 $ISK
Bonus Airdrop 500 $USDT + 500 $ISK
Deadline 17th April @ 4:00 AM UTC
Requirements to earn free crypto coins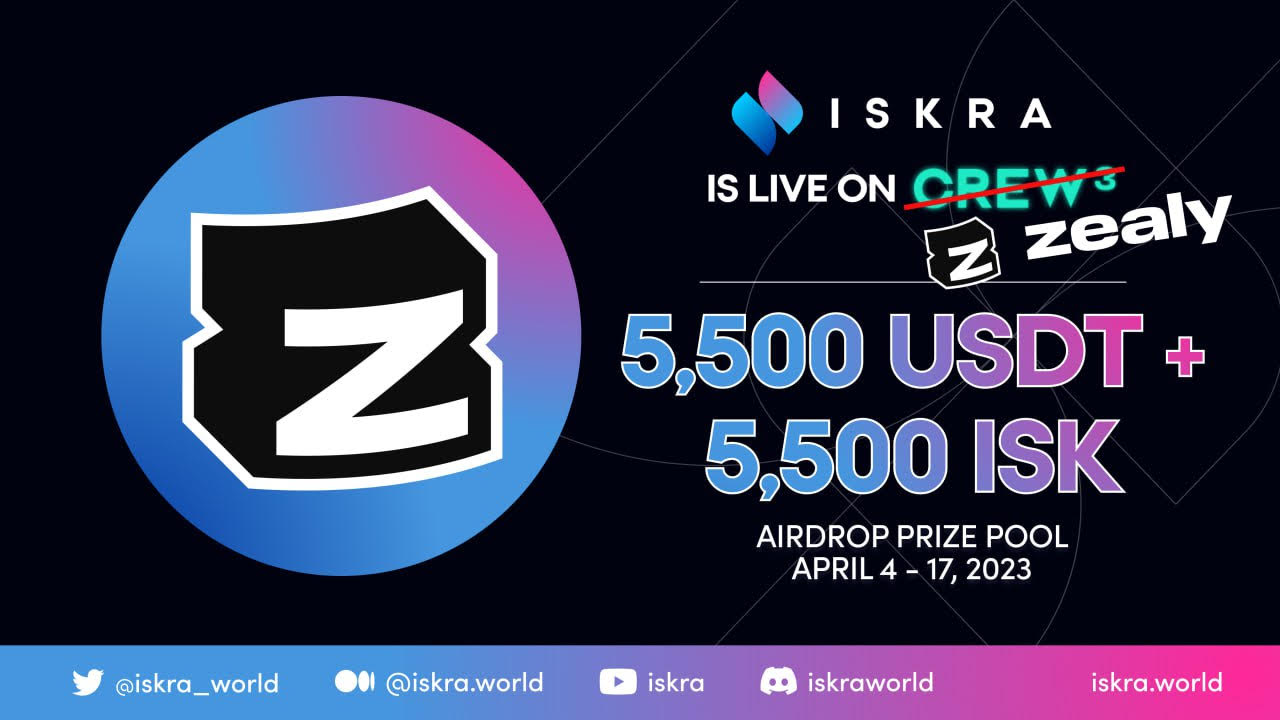 Native blockchain
Step-by-Step Guide ''Iskra Airdrop Party''
Visit the Iskra Airdrop page, which is powered by @Zealy_io (previously @Crew3xyz).
Connect your Metamask wallet.
Follow @Iskra_World on Twitter + Like, share and comment on the Iskra Airdrop Tweet.
Complete additional quests and invite your friends to increase your chances of winning.

▪️ Complete the tasks before the April 17th, 4:00 AM UTC deadline to have a chance at winning from the 5,500 $USDT + 5,500 $ISK prize pool, and stay tuned for future sprints. Good Luck!
* 🚀 As a special thanks to the community for pushing @Iskra_World beyond 50k followers on Twitter and also to give a chance to newcomers, they're doing a 500 $USDT + 500 $ISK Bonus Airdrop! To join, you must be Level 5+ and complete 10+ quests. They will select 50 random winners outside of the Top 400 🚀

When using decentralized applications (ÐApps), it's critical to remember that YOU are responsible for the security of your digital assets!
Disclaimer: This content is not intended to be financial advice. Investors should take the time to research any given product before depositing or investing their funds.
Estimated value
~$ 8,000 Prize Pool
Additional ICO information
Max Supply 1,000,000,000 $ISK
Blockchain Ethereum & Klaytn
Markets Uniswap, KLAYswap, Gate.io
Everything You Need to Know About Iskra – Video