Verified
Wombat ($WOMBAT) Airdrop
Attention all crypto enthusiasts! The latest Wombat Airdrop Giveaway is here, and they're offering a whopping 1,755,000 $WOMBAT tokens to 1,000 random lucky winners!

About Wombat

Wombat is a leading NFT gaming platform where you can win free tokens and NFTs by simply playing games. They are the creators of the popular Dungeon Master which offers a unique gameplay experience.
$WOMBAT is the native deflationary cryptocurrency of the Wombat App. You can trade it on KuCoin and hold it to unlock multi-chain utility and exclusive features on the Wombat App. Alternatively, holders will be allowed to Stake WOMBAT on Wax or Polygon to receive many additional benefits.
Learn more by checking out the Wombat Help Center or reading the Getting Started with Wombat guide, the Wombat Whitepaper, and the Dungeon Master Learn More section. Also, check out the Womplay FAQ to learn more about earning $EOS with Womplay or how to cash out and withdraw money from Wombat.

How to join the Wombat Airdrop?
Prize Pool 1,755,000 $WOMBAT
1000x Winners 1,755 $WOMBAT for Each Winner
Deadline 10 March, 2023 @ 11:59 PM
Requirements to earn free crypto coins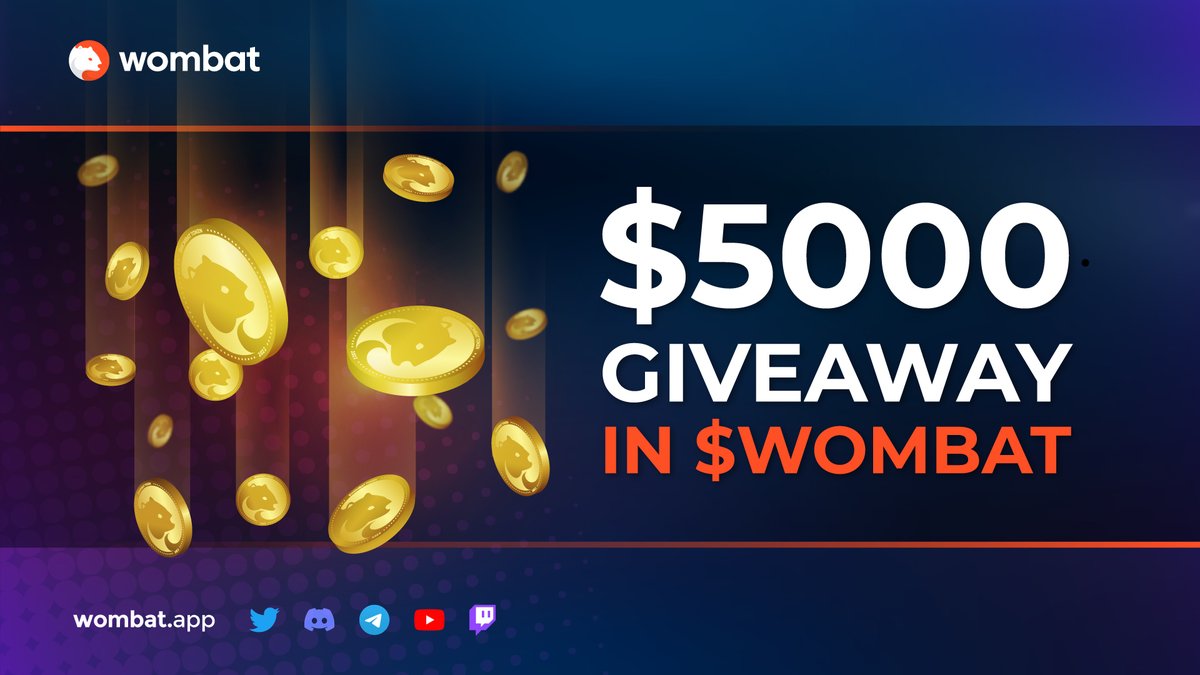 Native blockchain
Step-by-Step Guide ''Wombat Airdrop Giveaway''

▪️ 1,000 participants will be randomly selected to win 1,755 $WOMBAT Each. Best of Luck!
Disclaimer: As with any investment, it is important for investors to thoroughly examine any product before depositing or investing their funds. When using decentralized applications (ÐApps), it is critical to remember that the security of your digital assets is solely your responsibility.
Estimated value
~$ 5,000 prize Pool
Additional ICO information
Circulating Supply 429,727,591 $WOMBAT (Deflationary)
Blockchain Networks Ethereum, Polygon, EOS and WAX
Markets Uniswap (V3), QuickSwap, MEXC and KuCoin
The BIGGEST mid-season update in Dungeon Master - Video