Verified
IQeon x EXMO (IQN) Airdrop
IQeon Airdrop Contest in collaboration with EXMO trading platform is launching a competition with the prize fund of 900 IQN! In addition to the digital asset prizes, the winners will receive one more reward, up to 70% cashback rate from exchange transaction commissions for each verified user! The offer is valid for a month from the date of registration.
The prize fund will be distributed among the participants who have fulfilled all the requirements as follow:
5 IQN to the gaming account will be received by the first 50 users;
Each of the 100 participants of the competition will receive 3 IQN to the gaming account;
Another 350 participants will become owners of 1 IQN which will also be transferred to the gaming account.
Hurry up, because only the first 500 participants who have fulfilled all the conditions will receive prizes! Don't miss the chance to register on the exchange and become one of the winners in the IQeon&EXMO competition!
About IQeon & EXMO
IQeon.io is an Estonian blockchain startup that has developed gaming PvP platform integrating games, applications and services based on intelligent competitions between users created to help players monetize their in-gaming achievements. IQeon is the first Gaming platform where players can ''Earn real money'' thanks to their intelligence and achievements. This will be realized due to the use of domestic currency in the ecosystem, which can at any time be converted to cryptocurrency. The IQN token is an ERC-20 standard token released in 2017 on Ethereum blockchain.

EXMO is a British cryptocurrency exchange that offers a wide range of tools for novice and experienced traders. As one of the leading platforms for exchanging digital assets among CIS states, EXMO provides an opportunity to perform transactions with 190 trading pairs and shows an average daily trading volume of $16 million. Increase your income with EXMO, Invite your friends & get real money!
How to join the IQeon x EXMO Airdrop?
Total Airdrop Allocation 900 IQN tokens & up to 70% Cashback rate
Tokens Per Referral EXMO Referral program
KYC KYC is a requirement
Requirements to earn free crypto coins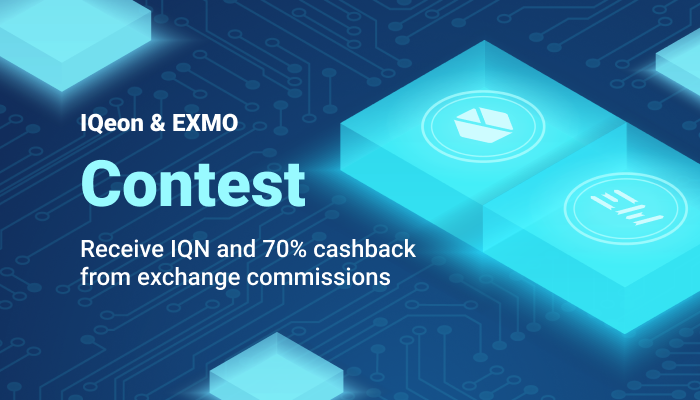 Native blockchain
Step-by-Step Guide IQeon & EXMO Airdrop Contest
Visit the IQeon & EXMO Contest page.
Log in to the IQeon gaming platform.
Find a campaign with EXMO exchange under the "My IQN" tab and follow the link to register.
Enter your EXMO-login in the contest card on IQeon.com platform.
The winners will be rewarded when the number of participants reaches 500! In addition to digital assets prizes, contest participants will automatically receive cashback up to 50% at the Taker rate and 70% at the Maker rate from transaction commissions on EXMO exchange.
Increase your income with EXMO, Invite your friends & get real money!
Please note that only new verified users of the exchange platform will be able to become the owners of IQN and cashback.
If you like the IQeon & EXMO Airdrop Contest, don't forget to upvote and comment below.
Estimated value
~$ 1,650 + cashback + referral
Additional ICO information
Circulating Supply 5.491.860 IQN
Markets EXMO.me, BitForex.com, Exrates.me, YoBit.net
Headquarters Tallinn, Estonia
IQeon Video