Verified
Kokoro ($Koko + Free Mint Whitelists) Airdrop
Kokoro NFT Giveaway 30 Free MINT Whitelists + $Koko Token Giveaway.
There will be a limited number of 10.000 unique NFTs, each NFT will be used to enter Kokoro's Metaverse world.

About Kokoro

Kokoro Heart Club is a group of people who share their passion for art, culture, and peace. Through the combination of Art and blockchain technology, they believe can make this world a better place. A NFT Web3 - VR platform for fashion lovers - Digital technology brand.
$Koko will be used as the core currency in Kokoro Heart Club. This token will be used to stake, farm and pay for club activities. NFT holders will also be able to get $Koko in Airdrop events in order to join in various activities. This will be the first and exclusive token for club members Later, $Koko can be linked with other projects to pay and use.
How to join the Kokoro Airdrop?
Requirements to earn free crypto coins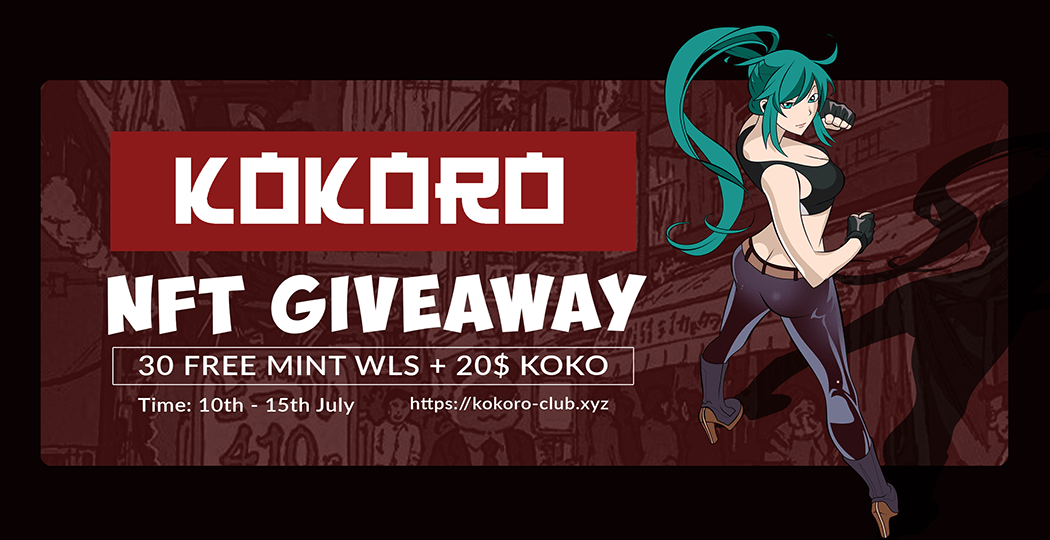 Native blockchain
Step-by-Step Guide ''Kokoro NFT Giveaway''
Login to the Kokoro NFT Giveaway Gleam page.
Follow @Kokoroheartclub on Twitter.
Like and retweet this Tweet.
Join Kokoro Heart Club on Discord.
Submit your Polygon wallet address.

▪️ 25 random Free MINT Whitelists + 20 $Koko.
▪️ 5 Free MINT Whitelists + 20 $Koko for top 5 RF.
▪️ 200 random winners will receive 5$ Koko each.
Kokoro in Japanese means SOUL/HEART, Or, in another sense, LOVE. Because they believe there is love in our hearts.

Like and share the Kokoro NFT Giveaway on your favourite SM!

When using decentralized applications (ÐApps), it's critical to remember that YOU are responsible for the security of your digital assets!
Disclaimer: Investors should take the time to research any given product before they invest their funds (DYOR).
Estimated value
n/a