Closed
Unverified
Konkrete (KKT) Airdrop
It looks like you are too late! This airdrop is closed
Looking for new airdrops?
Visit our Featured & New Airdrops pages.
Konkrete Airdrop is worth 200 KKT tokens (~$ 146) to airdrop participants. Share your referral link to earn 200 KKT tokens (~$ 146) for every referral. Also, Konkrete is airdropping 30,000 USD worth of KKT tokens for the Bounty Follower campaign. Receive 1 stake each week for each platform that you are following until the end of the campaign.

About Konkrete

Konkrete is the brainchild of two entities, Collective Campus and EstateBaron, an Australian leading equity crowdfunding platform for property development open to retail investors. Konkrete seeks to solve the global housing affordability crisis by creating a fractional co-ownership platform on the Blockchain allowing users to crowdfund their home deposits. Konkrete is rated 2.6/5 on ICO Bench.

Would you like to receive the latest free Airdrop Alerts? Join our Airdropalert Telegram.

How to join Konkrete Airdrop?
Login to the Konkrete Airdrop page.
Go to your profile and submit your KYC for approval.
Join Konkrete on Discord.
Follow Konkrete on Twitter.
Follow Konkrete on Facebook.
Follow Konkrete on Medium.
Submit your details to the Konkrete Bounty form.
Share your referral link to earn additionals 200 KKT for every referral.
If you use the ''CLAIM AIRDROP'' button below to claim the Konkrete Airdrop, it will automatically show on the main page with a purple check mark. So you can easily track which airdrops you joined and which ones you need to join.
How to join the Konkrete Airdrop?
Tokens Per Airdrop 200 KKT
Tokens Per Referral 200 KKT
Team KYC Not completed by team yet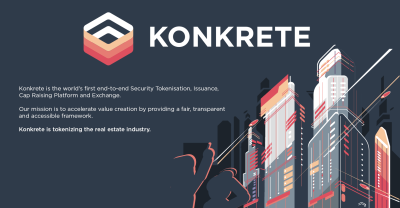 Native blockchain
Estimated value
~$ 146 + referral
Additional ICO information
ICO Token price 1 KKT = 0.73 USD
ICO End Date 16th November 2019
Token type Erc-20 based Security Token
Maximum Supply 100,000,000 KKT
Hard Cap 13,000,000 USD
Headquarters Melbourne, Australia
Konkrete Blockchain Introduction Video