Featured
Verified
KRATOS by trade.io (KTOS) Airdrop
KRATOS Airdrop is worth 75 KTOS tokens (~$ 8.5. By trading KTOS, you can earn even more tokens! 1 Million KTOS Tokens (~$ 118.000) will be distributed among the Top 100 best traders. Also, Non-exchange wallets holding 2,500 TIOx or more receive 100,000 KTOS tokens (~$ 11.800).

About KRATOS

KRATOS has been developed by ARKRATOS, a blockchain solutions company founded in Singapore in 2017. KRATOS is a trading platform for the physical commodities business that addresses challenges for the physical commodities trading business, in particular, the lack of access to trade finance for Small to Medium Enterprises (SME) players in the commodities. KRATOS is rated 3.9/5 on ICO Bench and being listed on trade.io

How to join the KRATOS by trade.io Airdrop?
Tokens Per Airdrop 75 KTOS
Tokens Per Referral No Referral program
KYC No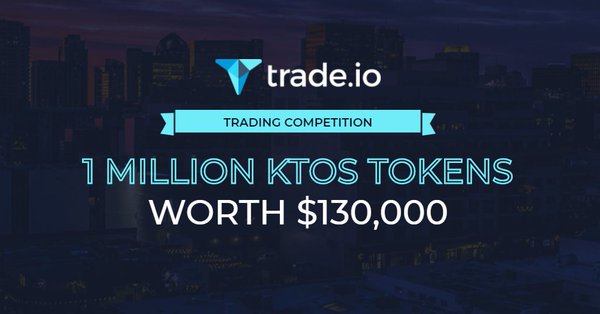 Step-by-Step Guide KRATOS Airdrop
Register for the KRATOS Airdrop, by creating an account before 12 PM EST on Tuesday, 22nd January. If you have an existing account on trade.io, don't create a new one - you're already eligible!
Snapshots are being taken at 12PM EST on Tuesday, January 22nd.
On 23rd January, you will be airdropped 75 KTOS tokens to your account. KTOS will also be listed on this day, so you can purchase more tokens to compete with!
Optional: Non-exchange wallets holding 2,500 TIOx or more receive 100,000 KTOS tokens (~$ 11.800).
Optional: trade.io Liquidity Pool participants receive 1 million KTOS distributed proportionally.
Optional: Trade KTOS. 1 Million KTOS Tokens (~$ 118.000) to be distributed among the Top 100 best traders.
More info about the Airdrop in the KRATOS Airdrop page.

If you use the ''CLAIM AIRDROP'' button below to claim the KRATOS airdrop, it will automatically show on the main page with a purple check mark. So you can easily track which airdrops you joined and which ones you need to join.
Estimated value
~$ 8.5 + Snapshot + Prizes
Additional ICO information
ICO price 1 ETH = 1000 KTOS
ICO End Date 30 December, 2018
Value of tokens sold in ICO 5,000,000 USD
Blockchain Standard ERC-20 based Utility Token
Total Supply 300,000,000 KTOS
Country Singapore
1,000,000 KTOS to 100 lucky winners!