Closed
Verified
LCX round 1 (LCX) Airdrop
It looks like you are too late! This airdrop is closed
Looking for new airdrops?
Visit our Featured & New Airdrops pages.
LCX Airdrop is worth 1,000,000 LCX Tokens in total. The leaderboard campaign will run for 3 weeks, and the participants will be rewarded as follows:
1st Place (1 winner) - $5,000 USD value worth 50,000 LCX Tokens
2nd - 5th Place (4 winners) - $3,000 USD value worth 30,000 LCX Tokens to each winner
6th - 10th Place (5 winners) - $1,000 USD value worth 10,000 LCX Tokens to each winner
11th - 20th Place (10 winners) - $500 USD value worth 5,000 LCX Tokens to each winner
21st - 50th Place (30 winners) - $100 USD value worth 1,000 LCX Tokens to each winner
51st - 1,000th Place (950 winners) - $50 USD value worth 500 LCX Tokens to each winner
1,001st+ Place (Open Pool) - $10 USD value worth 100 LCX Tokens to each winner

About LCX

LCX is a new category leader in the blockchain, establishing an ecosystem for the new financial world one step at a time. Enabling professional investors to trade, invest and manage crypto assets: Trading Platform for Digital Assets, Exchange for Security Tokens and other crypto assets, Blockchain Banking. LCX is a proud member of the World Economic Forum (WEF).

Monty Metzger, CEO and Founder at LCX, is an internet veteran and acclaimed thought Keynote Speaker on the future of digital. Monty found his first Internet company back in 1998, since then he co-founded several tech companies, co-founded a future technology consultancy with offices in Beijing, Tokyo, Munich and New York, then founded a registered Venture Capital Fund in Luxembourg as General Partner and invested in outstanding technology companies globally.

Would you like to receive the latest free Airdrop Alerts? Sign up for our newsletter.
How to join the LCX round 1 Airdrop?
Tokens Per Airdrop Leaderboard based
Entries Per Referral 100 Entries
Total Airdrop allocation 1,000,000 LCX
Requirements to earn free crypto coins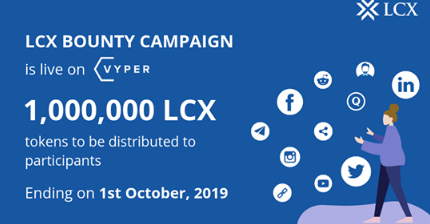 Native blockchain
Step-by-Step Guide LCX Airdrop
Sign up for the LCX Airdrop & Confirm your email.
Join LCX on Telegram. (Mandatory)
Create LCX account. (Mandatory)
Perform more social tasks to earn additionals entries.
Complete your KYC & Add exchanges to earn up 900 LCX tokens (~$ 9). (Optional)
Share your referral link to get extra entries.
If you like the LCX Airdrop, don't forget to upvote and comment below. And if you're looking for more free airdrops, have a look at NVM to claim gold tokens!
Estimated value
~$ 100,000 in total
Additional ICO information
Token price 1 LCX ≈ 0.10 USD (IEO Discount = 40%)
IEO Platform Liquid exchange
IEO End Date 23 September, 2019
Total Supply 1,000,000,000 LCX
Blockchain Standard ERC-20 Based Utility Token
Country Principality of Liechtenstein
LCX Video