Closed
Verified
Livetree (SED) Airdrop
It looks like you are too late! This airdrop is closed
Looking for new airdrops?
Visit our Featured & New Airdrops pages.
Livetree Airdrop is worth 5 SED tokens (~$ 5). Invite friends to earn 5 SED tokens (~$ 5) for every invited friend - they will also receive 5 SED tokens.
About Livetree
LiveTree is decentralising the entertainment industry by giving global audiences the power to support the production of meaningful content, and by giving independent creators a new source of funding. Productions will be supported directly by the market, and not the increasingly opaque industry of film and TV funding. LiveTree's in-house Artificial Intelligence (AI) even provides risk-analyses of individual projects for users who are considering funding new projects. Other key technology services are being provided by major names in the blockchain world such as Achain, DeepBrain Chain, 0chain, GoChain, and the Infinity Economics Platform.
How to join the Livetree Airdrop?
Tokens per airdrop 5 SED
Tokens per referral 5 SED
Total Supply allocated for Airdrop 100,000 SED
Requirements to earn free crypto coins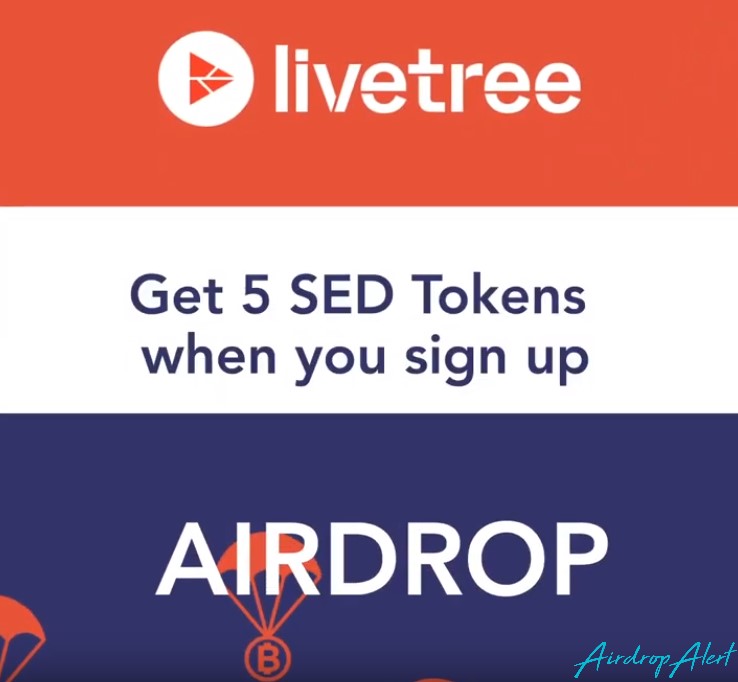 Native blockchain
Step-by-Step Guide Livetree Airdrop
Register for the Livetree Airdrop, by creating an account.
Set up your profile.
5 SED tokens will be added to your account. You can also enjoy the 90 day free trial.
Invite friends to earn 5 SED tokens for every invited friend.
Note: withdraw is available after the free 90 days trial is over.
If you like the Livetree Airdrop, don't forget to upvote and comment below.
Estimated value
~$ 5 + referral
Additional ICO information
Token Ticker SED
Token Price 1 SED = 1 USD
Country United Kingdom
Livetree Video