Closed
Unverified
Maxum (MUM) Airdrop
It looks like you are too late! This airdrop is closed
Looking for new airdrops?
Visit our Featured & New Airdrops pages.
Maxum is airdropping free MUM tokens to airdrop participants. The amount of MUM tokens per person depends on how many people sign up for the airdrop.
We labeled this airdrop with a ''unverified'' label because the team wants to stay anonymous.
About Maxum
Maxum is a deflationary token such as the BOMB token. With any transaction of Maxum, the smart contract destroys 2% of the transaction amount. As more tokens get destroyed, the burn rate goes up, making Maxum more scarce with every transaction. You can think about the different burn levels of Maxum in the same way that Bitcoin halving event works, both adding scarcity as parts of their economics.
Maxum is being airdropped in its totality, and the team won't do any fundraising round, IEO or ICO. The only way to obtain Maxum before it is live on the exchanges is through this airdrop.
How to join the Maxum Airdrop?
Tokens per airdrop n/a
Tokens per referral No referral program
Total Supply allocated for Airdrop 39,000,000,000 MUM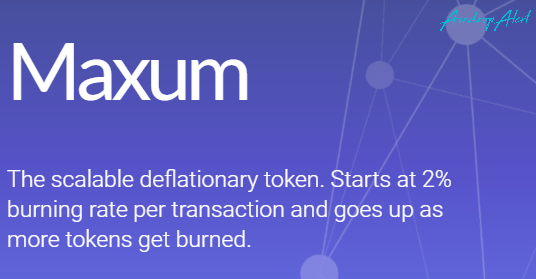 Native blockchain
Step-by-Step Guide Maxum Airdrop
Go to the Maxum Airdrop form.
Join Maxum on Telegram.
Submit your Ethereum Address and other details to the airdrop page.
You will receive free MUM tokens.
Note: There are ways to earn more MUM tokens for YouTubers and bloggers. Send a mail to hello@maxum.io for more information.
If you like the Maxum Airdrop, don't forget to upvote and comment below.
Estimated value
n/a
Additional ICO information
Token Ticker MUM
Starting Supply 200,000,000,000 MUM
Current Supply 200,000,000,000 MUM