Airdropalert
Exclusive
Unverified
MenaPay (MPAY) Airdrop
It looks like you are too late! This airdrop is closed
Looking for new airdrops?
Visit our Featured & New Airdrops pages.
MenaPay Exclusive Airdrop re-opened for 2000 new participants!
About MenaPay
MenaPay is the first, fully backed blockchain-based payment gateway in the Middle East and Africa. MenaPay replaces traditional payment methods with a blockchain-based fully backed cryptocurrency. This provides a secure and transparent payment gateway to enable transactions for every aspect of daily life. The MenaPay project was started in November 2017 to serve 420 million people, across 18 countries, as their primary payment method. MenaPay will distribute 75% of total revenue and profit amongst holders of MenaPay. It is creating a new standard in the crypto industry for the level of participatory returns, beyond the regular incentives for users and investors.
MenaPay Airdrop
MenaPay is airdropping 36 MPAY tokens (~$6) to airdrop participants and 12 MPAY tokens (~$2) for every referral. MenaPay airdrop re-opened for 2000 new participants. If you joined before, thank you for that! However you can not join for the second time.
For questions about airdrop, please see FAQ. Airdrop token distribution is after token sale, around Q2 2019.


Airdrop Form
If you click on the ''CLAIM AIRDROP'' button below to claim the MenaPay Excluisve Airdrop, it wil bring you to the Airdrop Form.
How to join the MenaPay Airdrop?
Tokens per Airdrop 36
Tokens per referral 12
Team KYC Completed by team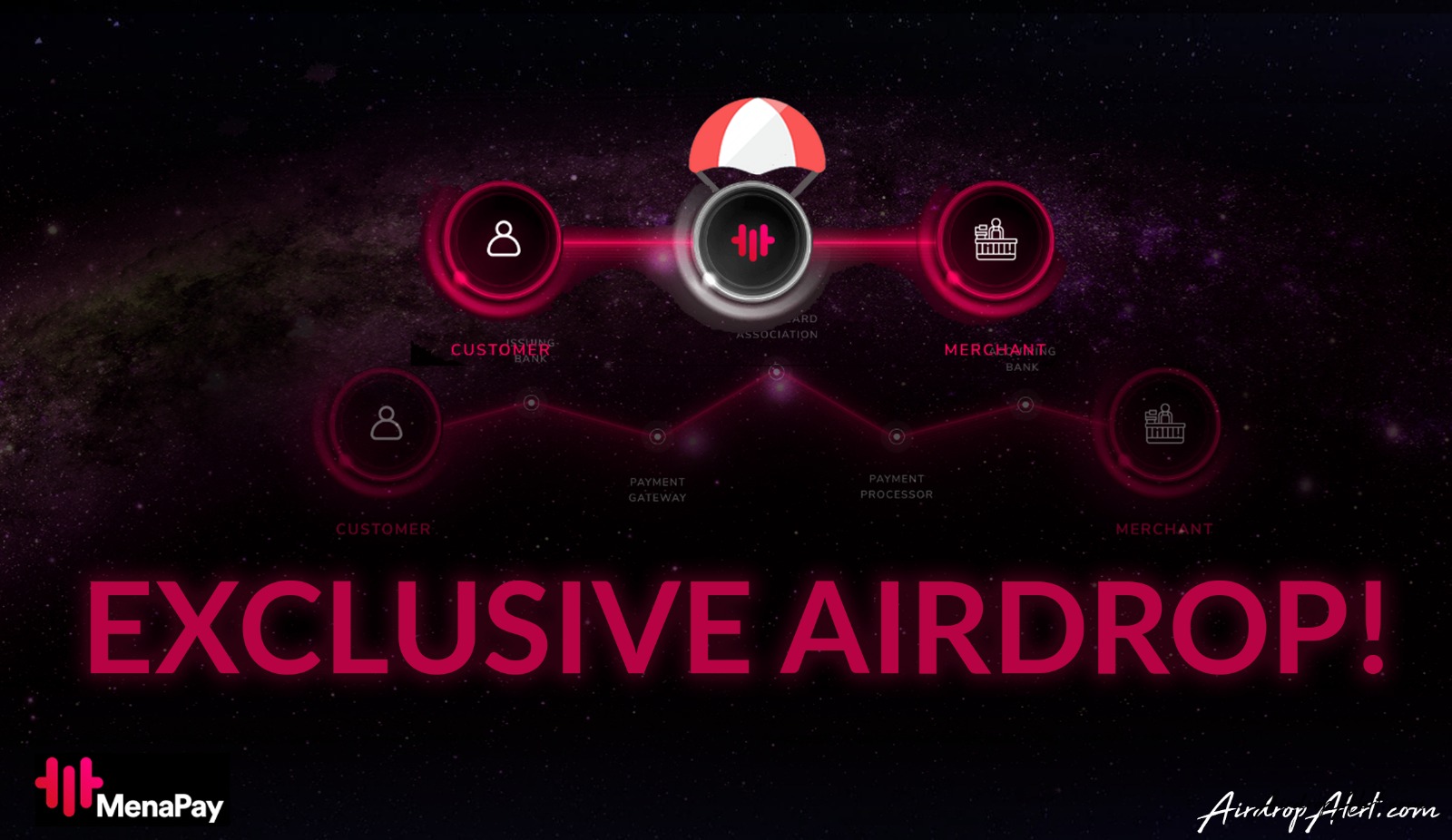 Native blockchain
Estimated value
~$6 + $2 for every referral
Additional ICO information
Total token supply 400,000 Million
Pre-ICO start Date Jan 2019
ICO Start date Feb 2019
Softcap n/a
Hardcap 25 Million USD
Token price 1 MPAY = 0.165 USD
MenaPay Video