Unverified
MoonEdge (MOONED) Airdrop
MoonEdge Whitelist & Airdrop prize pool is worth 2,000,000 MOONED tokens (~$ 60,000).
On the 13th of June at 1 pm UTC, the MoonEdge whitelist will be open for anyone to participate! The whitelist will be open for at least 10 days. However, it is not based on First-Come-First-Served.

About MoonEdge

MoonEdge is a decentralized launch pad fully dedicated to project launches on Polygon (Start Earning rewards with Polygon Staking). MoonEdge's goal is to provide a seamless path for Polygon-built projects to make it to market. Through this, they are lowering the barrier to entry for all Polygon enthusiasts. The $MOONED token has not been deployed. To find out more, check out the Litepaper.
How to join the MoonEdge Airdrop?
Total Airdrop Allocation 2,000,000 MoonEdge
KYC KYC is not a requirement
Airdrop End Date 23 June 2021
Requirements to earn free crypto coins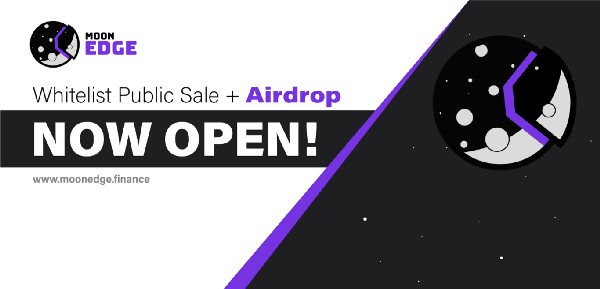 Native blockchain
Step-by-Step Guide ''MoonEdge Airdrop''
Sign for the MoonEdge Whitelist & Airdrop, by creating an account.
Log in to your account & Click on ''Send Verification''. The email is a backup method of updating you on any status changes.
Config Matic on Metamask, if you haven't already added it before.
Connect your Metamask wallet & Verify your wallet. When using decentralized applications (dApps), it's critical to remember that YOU are responsible for the security of your digital assets!
Follow @Moon3dge on Twitter.
Once you have followed on Twitter and Telegram, you must enter your Twitter and Telegram handles into the respective fields on the webpage.
MoonEdge will announce when the lottery results are drawn. The distribution amount is calculated by your #number of tickets/total number of tickets * 2,000,000 so everyone wins!
Share your referral link to gain tickets and increase your odds of winning.
If you like the MoonEdge Whitelist & Airdrop, don't forget to like and comment below!


Disclaimer: Investors should take the time to research any given product before they invest their funds. ''Buy Bitcoin with Credit Card''
Estimated value
~$ 60,000 in total
MoonEdge Unofficial Video review