Caution
Verified
KTX Finance Testnet ($KTX)
KTX Perpetuals Testnet Airdrop is Live! Eligible users who actively traded on KTX Finance during the testing period will be able to claim $KTX token packages for free once KTX launches on Mainnet in Q1 2023. Don't miss out on this opportunity to get your hands on some free gems!

About KTX Finance

KTX Finance is a cutting-edge on-chain decentralized derivatives and social trading protocol that enables up to 50x leverage. Built on the BNB Chain, KTX creates a capital-efficient spot and perpetual exchange that anyone can use. The protocol utilizes a unique single multi-asset pool that enables high capital efficiency for LPs, who earn fees on trading activity. Traders can take up to 50x leverage with low swap fees and zero counterparty risks, trading against the KTX native liquidity pool or KLP Pool.
By using a multi-asset liquidity pool model, KTX enables large trade volumes, sustained incentives through KLP minting, no impermanent loss, no slippage, and no scam wicks due to oracle pricing. KTX is the go-to platform for swing and perpetual traders looking for low fees, zero price impact, and fast trades in BTC, ETH, and BNB.
How to join the KTX Finance Testnet ?
Requirements to earn free crypto coins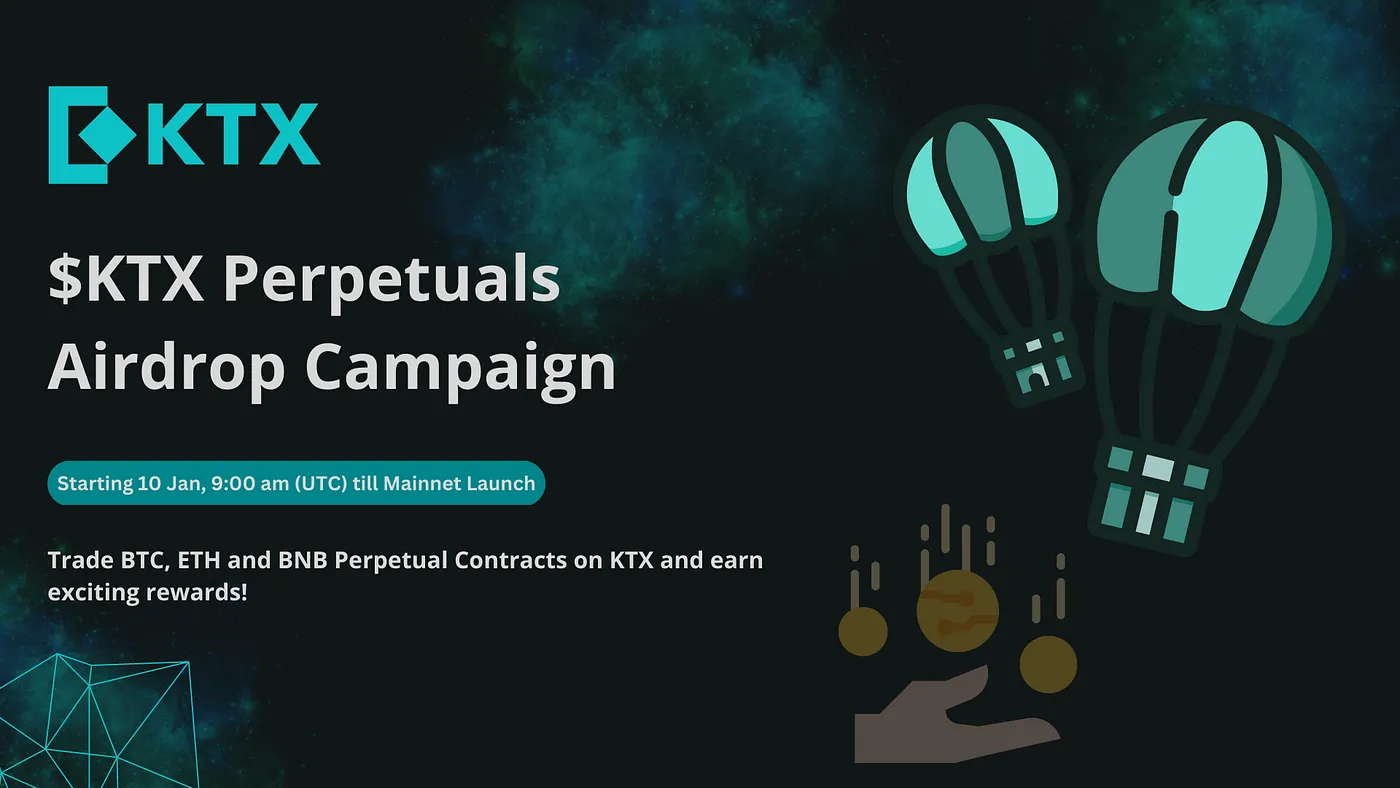 Native blockchain
Step-by-Step Guide ''KTX Perpetuals Testnet Airdrop''

▪️ Users who've actively traded will be able to claim free $KTX packages which can be opened for $KTX tokens when they launch their tokens in Q1 2023. Eligible users from Testnet will have to place a perpetual trade within 14 days right after Mainnet launch with a margin of 100 $BUSD to claim the KTX packages. This airdrop mechanism ensures that traders who actively use KTX will be the ones who get the most tokens and control of the protocol. More information on the KTX Mainnet launch and token-related products will be announced shortly. Best of Luck!
* When using decentralized applications (ÐApps), it is critical to remember that the security of your digital assets is solely your responsibility.
Disclaimer: As with any investment, it is important for investors to thoroughly examine any product before depositing or investing their funds.
Estimated value
N/A