Sponsored
Mine Barons ($MBC)
Mine Barons Airdrop prize pool is worth ~$500,000 of $MBC tokens to be distributed among Airdrop participants. Earn from $100 to $1,200 for completing simple tasks.
The token MBC (Mine Barons coin) has not been issued yet. About 30% of the supply will be distributed by Airdrop after release (when the final version of the game will be launched). More information about the token will be announced later​​​​​​!

About Mine Barons

Mine Barons is a unique next-generation Play-to-Earn Game with a full-fledged medieval economic model and military mechanics, where you can build, farm, create, fight and rule over lands and earn real money. The game is based on the Polygon blockchain and is playable from any browser, there is no need to download apps. It's enough to create an account on the project website by connecting your Metamask wallet. You can find your referral link in your profile after creating an account in the game.
Game resources: GOLD (MBG), WOOD (MBW), STONE (MBS), IRON (MBI), FOOD (MBF), HORSE (MBH)  -  can be bought in exchange, as well as mined. Each NFT for Farms, Mines, Troops, etc. has random quality characteristics that are obtained when crafting it.
Land NFT is the most valuable resource as after being staked in the game, it gives the owner status of "Baron", who can rule the Land and gain stable profit. Other players build their Farms and Mines on the Barons' land and pay taxes, which are set between 1% and 20% by each Baron individually. The Lands can be conquered by other Barons and assigned to the new owner. Therefore, the Barons need to maintain troops and build Fortifications to protect their possessions.
How to join the Mine Barons ?
Deadline 21 October, 2022
Distribution After the end of Airdrop
Requirements to earn free crypto coins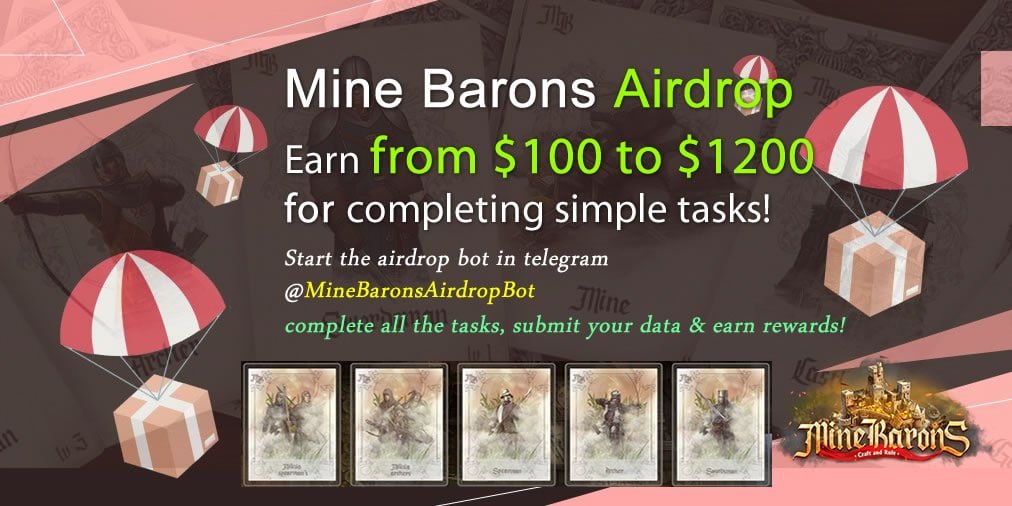 Native blockchain
Step-by-Step Guide ''Mine Barons Airdrop''
Start the Mine Barons Airdrop Telegram Bot.
Follow @MineBarons on Twitter & Quote RT the Airdrop Tweet.
Visit the Mine Barons website & Check the project Wiki.
Provide your Polygon wallet address.
Invite friends to get 100 extra points for each and increase your reward.

▪️ More than $500,000 worth of tokens will be distributed among all Airdrop participants & The Top 100 participants with the most points will also get an NFT worth about $300. Good Luck!
▪️ Social Event: You can also get random Farm or Mine NFT for free, start farming game resources right now and sell them, paying back the cost of a mint pass many times over, and also get a free army right at the start! Join the game Referral program to earn even more!

* You can also get a reward of SEVEN TIMES MORE TOKENS than the rest if you stake any of the Mine Barons Mint Passes or power orb in the game Demo right now and keep it until the end of the event.
* Holding a Mint Pass also gives you the right to purchase game NFTs without a Whitelist and is much cheaper, and you will be able to participate in additional events and receive more cool gifts. All Mint Passes gives a special additional Governance Token Airdrop and priority to all future drops and events!
* The NFT owner who stakes them in the game demo will be able to improve the parameters of his Land. For every Farm Pass that you stake, you will get a free squad of Archers or Spearmen, Mine Pass - a squad of Swordsmen, Queen pass - a squad of Horsemen, King pass - Horsemen and a Siege weapon!

Like and share the Mine Barons Airdrop on your favourite SM!
When using decentralized applications (ÐApps), it's critical to remember that YOU are responsible for the security of your digital assets!
Disclaimer: Investors should take the time to research any given product before they invest their funds (DYOR).
Estimated value
~$ 530,000 Prize Pool
Mine Barons - Unofficial Video Review