Verified
Rubic, Symbiosis & Boba ($RBC, $SIS and $BOBA)
The spring season of cross-promotions and Rubic's partners Airdrops has begun! This time, they're holding an exciting Airdrop Campaign together with Symbiosis Finance and Boba Network — the Ethereum L2 Optimistic Rollup!
Join the action and grab rare NFTs to unlock future benefits and Airdrops on Rubic. Win a share of the $45,000 reward pool, which includes $15,000 worth of $RBC, $15,000 in $SIS, and $15,000 in $BOBA tokens. Don't miss out on this unique opportunity!

About Rubic

Rubic is a leading Cross-Chain Swap Aggregator app that makes it easy for users to swap over 15,500 tokens across multiple blockchains, including Ethereum, BSC, Polygon, and many more. Powered by the Rubic Cross-Chain Protocol and the $RBC token, Rubic offers the best rates, highest liquidity, and transaction speeds through the aggregation of 90+ DEXs and bridges.
Rubic also supports popular Ethereum Layer 2 Rollups, including Arbitrum, and Optimism, and has plans to expand to more ZK rollups soon. The partnership between Rubic, Symbiosis Finance, and Boba Network further accelerates Ethereum scaling and provides users with even more opportunities to participate in cross-chain liquidity.
Apart from the easy token swaps, Rubic offers additional bonuses and Airdrops to users who use the platform. Rubic regularly collaborates with L2 Rollups to engage users and provide exciting promotions and Airdrops to the community. Get ready to participate in the first L2 Airdrop with Symbiosis Finance and Boba Network and stay tuned for more exciting developments on Rubic.

How to join the Rubic, Symbiosis & Boba ?
Airdrop Period From March 23 to April 2 2023
Requirements to earn free crypto coins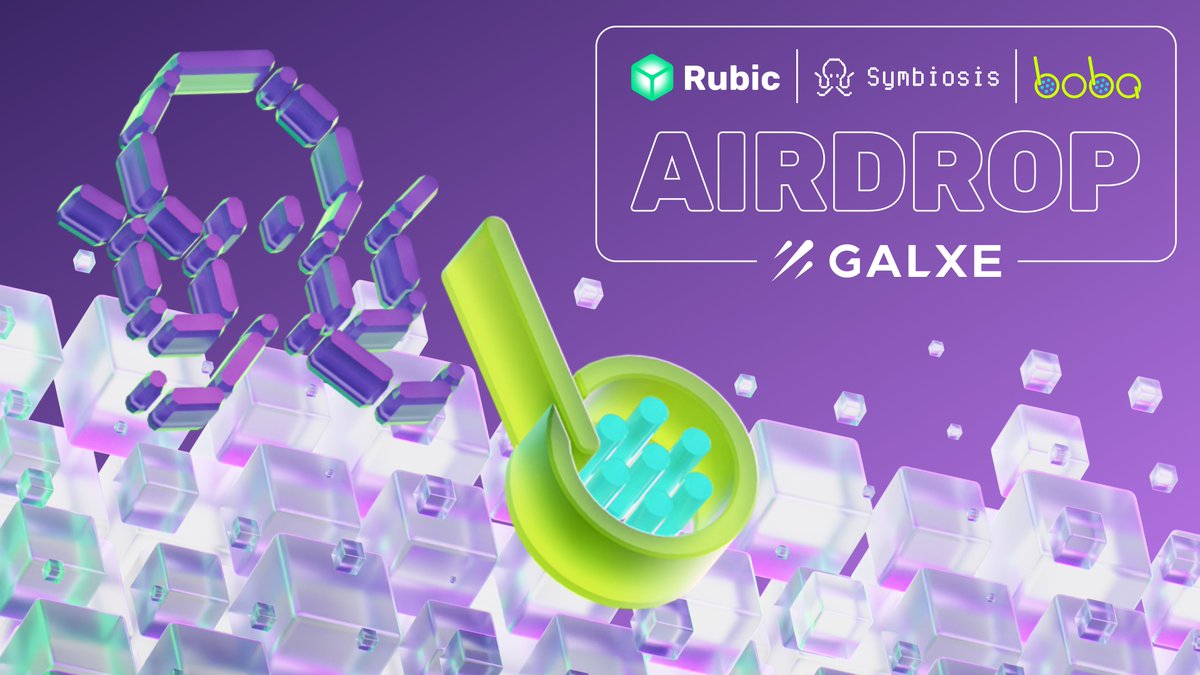 Native blockchain
Step-by-Step Guide ''Rubic, Symbiosis Bridge, & Boba Network: A Unique Airdrop''
Starting from March 23, you can claim 4 unique NFTs by completing various tasks. Here's a summary of what you need to do to get them:
Go to the Rubic, Symbiosis Bridge & Boba Network Airdrop page, powered by Galxe, and scroll down to find the 4 Galxe campaigns.
To get the NFT 1, Follow @CryptoRubic, @BobaNetwork, and @Symbiosis_Fi on Twitter. Like and Quote Tweet the Announcement Tweet. Complete Cross-Chain Swaps (min. amount of $10) to Boba ETH via Symbiosis on the dedicated landing page at Rubic.exchange.
To get the NFT 2, participate in a joint AMA (the exact link and date will be shared later).
To get the NFT 3: To get this NFT you need to hold at least 5,000 $RBC before 21:00 UTC, 2nd of April 2023.
To get the NFT 4: Go to app.symbiosis.finance/liquidity-v2/pools and choose the Boba Ethereum pool. Add $25 of liquidity to the $BOBA Ethereum pool and keep it no less until the end of the campaign on April 2nd, 2023.

▪️ Completing the tasks above will enable users to claim 4 unique NFTs on Galxe and unlock access to the $45,000 reward pool, consisting of $RBC, $BOBA, and $SIS tokens while enjoying the convenience of seamless cross-chain swaps. You can learn more about the campaign here. Best of luck to all those who participate!

When using decentralized applications (ÐApps), it's critical to remember that YOU are responsible for the security of your digital assets!
Disclaimer: This content is not intended to be financial advice. Investors should take the time to research any given product before depositing or investing their funds.
Estimated value
~$ 45,000 Prize Pool
How To Make A Cross-Chain Swap: Rubic vs Any Bridge? - Video