Verified
Tensor ($Tensor Token + Mystery Boxes)
Are you an NFT trader on the Solana blockchain? If yes, then we have exciting news for you! The Tensor Season 1 Airdrop is now live and everyone who has traded NFTs in the last 6 months is eligible to claim Free Mystery Boxes.
But that's not all - Tensor Season 2 Airdrop is also LIVE and even more rewarding than Season 1! NFT traders should not miss this opportunity to earn the lion's share of rewards by joining Tensor's Season 2 Airdrop today. May the NFT gods be in your favor, good luck!

About Tensor

Tensor is a marketplace that offers a unique fee structure to its users, based on Solana. It charges only a 1% taker fee and a 0% maker fee, meaning that users can set up list, bid, and market-making orders without any fees charged.
In addition, Tensor pays full royalties on enforced collections, while charging 0% royalties on the rest. Users who buy a listing or instant sell into a bid pay the enforced royalties at checkout. Tensor's fees and royalties are subject to adjustments in the future.
How to join the Tensor ?
Requirements to earn free crypto coins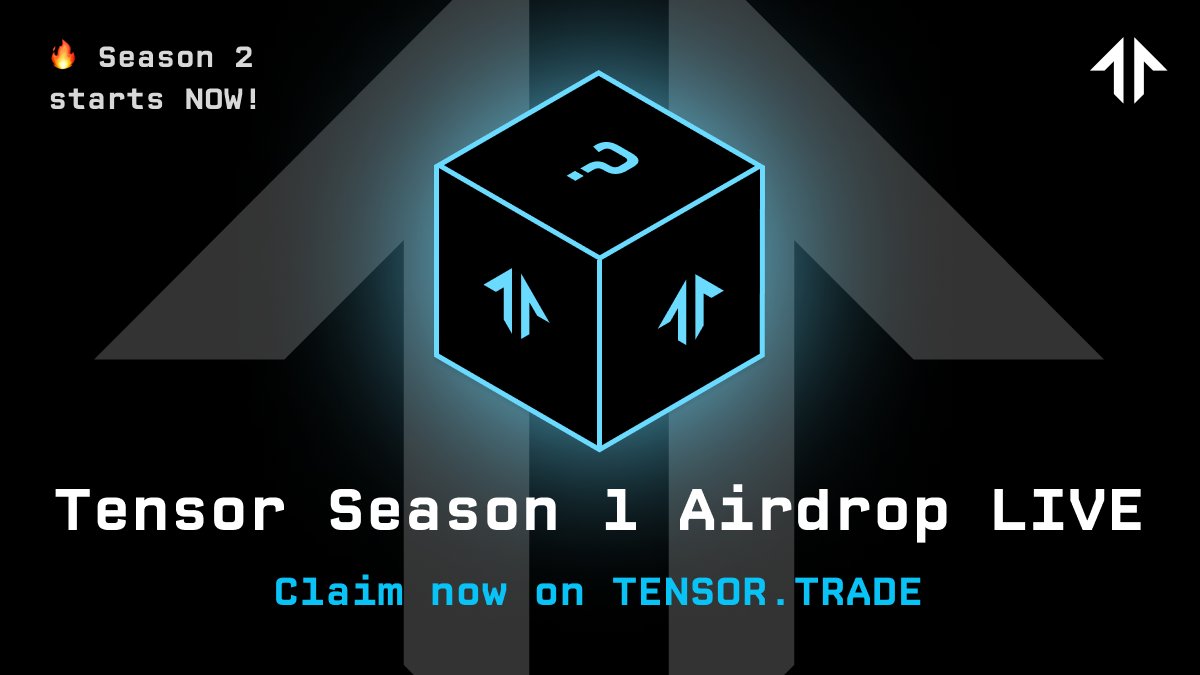 Native blockchain
Step-by-Step Guide ''Tensor Season 1 & Season 2 Airdrop''
Visit the Tensor Season 1 Airdrop page & Connect your Solana wallet.
If you've traded NFTs on any Solana marketplace in the last 6 months, you can claim your free mystery boxes now, with 25x-50x extra rewards for those who have traded on Tensor.Trade.
Tensor Season 2 Airdrop has just begun, and it is even more rewarding than Season 1! Season 2 will reward ONLY activity on TensorSwap, and only three actions count to earn points: BID, LIST, and MARKET-MAKE. The more you bid, list, and market-make, the closer to the floor, and the longer your bids/listings stay up, the more you'll earn. So, start BIDDING, LISTING, and MARKET-MAKING on Tensor TODAY.

▪️ The Tensor token for the Airdrop rewards has not been released yet, but they will introduce it soon. Opening the boxes will take some time for Tensor to learn, but the descriptions may contain hints as to what's inside. Best of luck on your NFT trading journey!

* Note: Bidding or listing too far from the floor or on less popular collections won't earn points. Wash trading won't be rewarded, but it will still generate fees. Once a bid or listing is taken, it will stop earning points. The longer a bid or listing is active, the more points it earns. Market-making is the most convenient action, as any bid taken becomes a listing and vice versa, while also earning market-making fees. These actions will only be rewarded on Tensor, and not on other platforms!

When using decentralized applications (ÐApps), it's critical to remember that YOU are responsible for the security of your digital assets!
Disclaimer: This content is not intended to be financial advice. Investors should take the time to research any given product before they deposit or invest their funds.
Estimated value
N/A
Intro to Tensor Trade - Video