Caution
Verified
UrDEX Finance ($URD)
Revolutionary news has just hit the cryptocurrency world! After months of tireless dedication and relentless effort, @UrDEX_Finance has just launched its Testnet Event, and it's creating waves of excitement across the industry. This is a once-in-a-lifetime opportunity to be part of something truly groundbreaking!
To celebrate this momentous occasion, UrDEX Finance is giving away a generous massive prize pool worth $30,000 of $URD tokens, the platform's utility token, which has an intrinsic value of hundreds of thousands of Dollars after the token launch event. This is a chance to get on board with a platform that's destined to revolutionize the way we trade.

About UrDEX Finance

UrDEX Finance is a decentralized exchange on the Arbitrum chain that aims to solve the liquidity problem by enabling various forms of liquidity to connect with markets in a decentralized manner. Its platform includes a decentralized exchange, a decentralized perpetual exchange, yield instruments, an AMM framework and staking, and a launchpad for startups to raise capital and generate initial liquidity.
UrDEX Finance's unique approach intertwines decentralized markets and instruments, creating a broader range of network effects. Its democratic and transparent governance structure involves $URO token holders in the protocol's decision-making.
The native utility token of UrDEX Finance is $URD, which can be earned by providing liquidity to the UrDEX network, participating in staking activities, completing tasks or events, referring new users, trading on supported exchanges, and contributing to the development of the UrDEX ecosystem. Additionally, staking URD can help support the network and earn rewards.
The URD token public sale will offer 1.67% of the URD supply, which is equivalent to 1,670,000 tokens out of a total supply of 100,000,000 tokens.

How to join the UrDEX Finance ?
Requirements to earn free crypto coins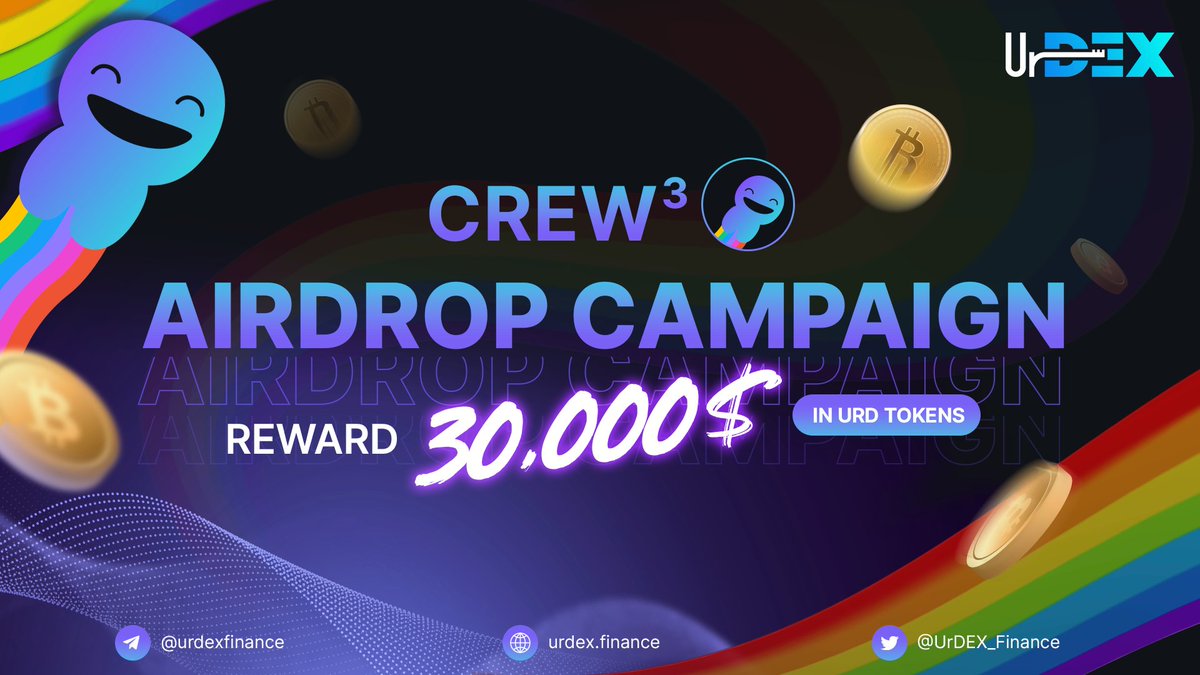 Native blockchain
Step-by-Step Guide ''UrDEX Finance Airdrop & Testnet''
Visit the UrDEX Finance Questboard page, powered by CREW³.
Follow @UrDEX_Finance on Twitter.
Participate in the UrDEX Testnet to test out the platform's features and provide constructive feedback to help improve the platform.
Earn more XP by completing various social tasks. The more tasks completed, the more $URD you can earn!

▪️ Overall, the UrDEX Finance Airdrop and Testnet is an exciting opportunity to start exploring all that UrDEX has to offer while earning rewards for your participation. Good luck!
* UrDEX is thrilled to announce its strategic partnership with @ParamiProtocol to offer cutting-edge solutions to the challenges facing the DeFi sector, with a focus on asset privacy and security.

When using decentralized applications (ÐApps), it's critical to remember that YOU are responsible for the security of your digital assets!
Disclaimer: This content is not intended to be financial advice. Investors should take the time to research any given product before depositing or investing their funds.
Estimated value
~$ 30,000 Prize Pool
Additional ICO information
Max Supply 100,000,000 $URD
Blockchain Standard Arbitrum
Markets Public Sale (TBA)
Price Per Token 1 $URD = 0.15 USD