Verified
ONTO x OKEXChain (OKT) Airdrop
ONTO x OKEXChain Airdrop is worth 200 OKT TestNet tokens each on a first-come-first-serve basis!

About ONTO x OKEXChain

ONTO is the first truly decentralized cross-chain wallet that allows users to manage their digital identities, data and digital assets.
OKExChain is the world's first trading chain technology built for trading. It is the next step in the development of decentralized trading, where people can trade anything of value on-chain, and own and control the assets that they trade. OKExChain provides a safe and efficient infrastructure for creating decentralized applications for seamless on-chain trading of all kinds of assets within a cross-chain, value-exchange ecosystem.
OKT is the native token of the OKExChain ecosystem, providing immediate utility and benefits such as voting rights, staking privileges and transaction fee payment for decentralized exchanges and other DeFi applications built on the network. The OKT genesis block will contain an initial minting of 10 million OKT, which will be distributed to OKB holders who stake their OKB on OKEx Jumpstart. OKT has the same model as Bitcoin Halving, where its block reward is cut in half roughly every three years. The initial block reward is 1 OKT and the theoretical upper limit of OKT's total supply is about 72.2 million.
StormGain Airdrop is worth Free 25 USDT tokens plus up to 15% Bonus on the first deposit.
How to join the ONTO x OKEXChain Airdrop?
Total Airdrop Allocation 800,000 ONTO
Tokens Per Referral No Referral Program
KYC KYC is not a requirement
Requirements to earn free crypto coins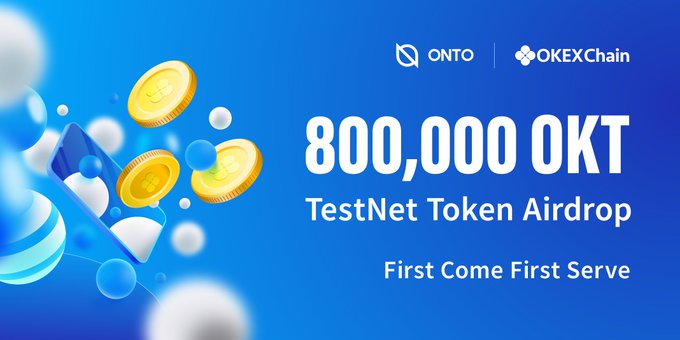 Native blockchain
Step-by-Step Guide ''ONTO x OKEXChain Airdrop''
Visit the ONTO x OKEXChain Airdrop form.
Download the Ontology Data Wallet App and create your wallet.
Navigate to the Assets section and search for the "OKT". After that add it to your asset list for your ONTO to support OKT.
Follow @ONTOWallet on Twitter & Retweet the event Tweet.
Join ONTO Wallet on Telegram.
Submit your OKT wallet address within ONTO and other details to the Airdrop form. PLEASE NOTE that all non-ONTO OKT addresses will be disqualified. The airdrop will be distributed to users within 3 working days.
If you like the ONTO x OKEXChain Airdrop, don't forget to Like/Comment below.
Disclaimer: Investors should take the time to research any given product before they invest their funds. ''Buy Crypto with a Credit Card''
Estimated value
n/a
Ontology Video