Featured
Unverified
OVCode (OVC) Airdrop
It looks like you are too late! This airdrop is closed
Looking for new airdrops?
Visit our Featured & New Airdrops pages.
OVCode airdrop is worth 3 OVC tokens (~$ 9) and 1 OVC tokens (~$ 3) for every referral, refer up to 7 friends.
About OVCode
OVCode is a new technology patented by OVCode Switzerland AG that integrates Blockchain technology. OVCode provides development tools to make it easy and simple to implement endless applications for identity management, contracts, stocks and anything that deals with government as health, science, culture and even art. OVCode represents also the ultimate formidable proof of authenticity for all assets, from digital assets to intangible assets like patents, copyrights, or even for physical assets like land titles, cars registration or gold certificates.

How to join OVCode Airdrop?
Go to the OVCode LATOKEN Airdrop page.
Login in social widget using the email linked to your account at LATOKEN with Tier 2 verification.
Complete the social tasks & Submit your details.
Follow LATOKEN on the Telegram channel.
Follow LATOKEN on Twitter.
Invite friends using the referral link from the social widget and get extra 1 OVC for each friend.
Tokens will be sent to the participants within 10 days after the end of the campaign.
If you use the ''CLAIM AIRDROP'' button below to claim the OVCode airdrop, it will automatically show on the main page with a purple checkmark. So you can easily track which airdrops you joined and which ones you need to join.
How to join the OVCode Airdrop?
Tokens Per Airdrop 3 OVC + 1 OVC for referral
Token Price 1 OVC = ~ $3
Team KYC Yes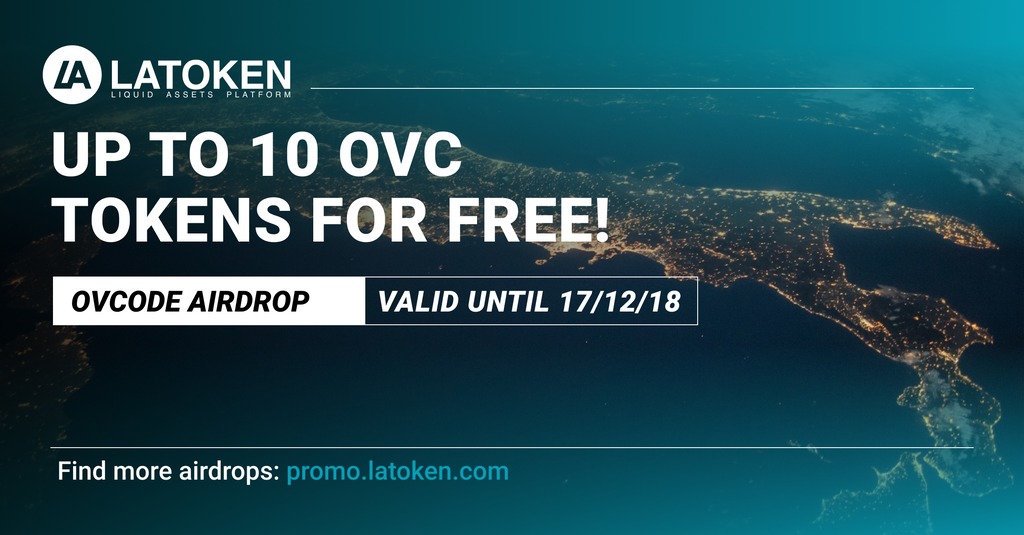 Native blockchain
Estimated value
~$ 9 + referral
Additional ICO information
Total Token Supply 83,875,000
Pre-sale start date 11 Apr 2018
Pre-sale end date 14 Apr 2018
ICO start date 21 May 2018
ICO end date 20 Jul 2018
Registration Country Switzerland
OVCode Video