Caution
Verified
Overnight ($preOVN) Airdrop
Overnight Exclusive Airdrop for Savvy Investors is worth up to $1,000 value rewards in $preOVN tokens for 1,000 random lucky winners.

About Overnight

Overnight is a DeFi protocol behind $USD+, a yield generating stablecoin with a daily profit payout. With Overnight, your money never sleeps!
$USD+ is pegged to/instantly redeemable in $USDC. It is 100+% backed by low-risk, highly liquid, yield-generating DeFi assets. Deposit stablecoins to earn yield overnight with most conservative DeFi liquidity management. $OVN is the governance token of the Overnight protocol. Savvy Crypto investors choose USD+ to park their cash.
The Overnight smart contract has been successfully Audited by Hacken.io. Overnight is featured on CryptoDaily.io.
How to join the Overnight Airdrop?
Airdrop Rewards up to $1,000 worth in $preOVN
Snapshot Date 11th April 2022 @ 1:00 pm CET
Airdrop Distribution From 25th of April 2022
Requirements to earn free crypto coins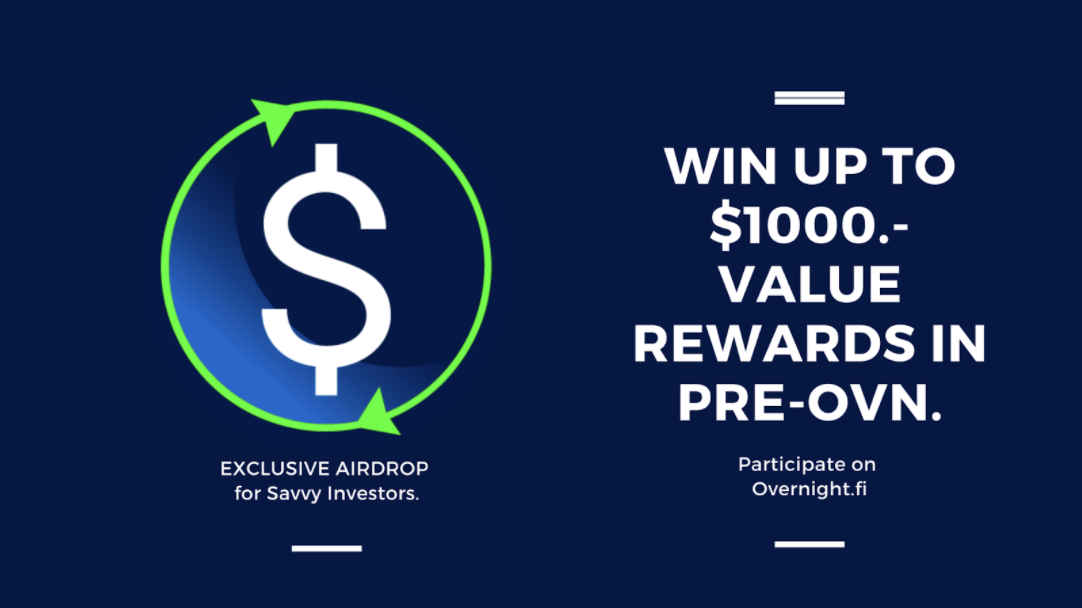 Native blockchain
Step-by-Step Guide ''Overnight Airdrop''
Visit the Overnight Airdrop form.
Join Overnight on Discord.
Follow @overnight_fi on Twitter & Retweet the Airdrop promotional Tweet and @Tag 3 people.
Buy for 100 $USD+ on Overnight.fi. (How to buy USD+ via FIAT currency)

🎁 Prices: 1000 participants randomly picked will win:
1st to 5th place: $1000.- in preOVN value from Overnight.
6th to 50th: $100.- in preOVN value from Overnight.
51st to 100th = $10.- in preOVN value from Overnight.
101st to 1000th = 1$.- in preOVN value from Overnight.

▪️ Note that you'll be able to swap your preOVN for OVN with a 1 to 1 ratio and EXTRA 25% bonus in May-June 2022 with a 25% bonus.

** Participants must have the 100 $USD+ in their wallet until the 25th of April in order to be eligible for the draw. Participation does not guarantee to be selected for the Airdrop. Overnight.fi is SOLELY responsible for the selection and distribution of assets to the winners which will occur after the close of the Airdrop period.

Additional presents are waiting for you:
Referral program: Access the pre-sales OVN by referring new USD+ investors.

Follow Overnight announcement channels for future Airdrops (coming soon) and listing advantages.
Like and share the Overnight Airdrop on your favourite SM!
When using decentralized applications (ÐApps), it's critical to remember that YOU are responsible for the security of your digital assets!
Disclaimer: Investors should take the time to research any given product before they invest their funds (DYOR).
Estimated value
~$ 10,000 Prize pool