Verified
PancakeSwap Perpetual ($USDT) Airdrop
PancakeSwap & ApolloX are sponsoring a lucky draw event to celebrate the launch of perpetual trading on PancakeSwap, with a total prize pool of 100,000 $USDT!
This feature is developed in partnership with ApolloX Finance. By joining hands, traders on PancakeSwap can enjoy deep liquidity and tight spread on a wide selection of futures contracts right away. The trading infrastructure is designed with off-chain order-book matching and on-chain settlement, allowing important trading features like different types of orders (e.g. limit order, stop limit, post only) while maintaining the privacy and security of a DEX — i.e. does not require KYC, no intermediaries to interact with smart contracts.

About PancakeSwap

PancakeSwap is the leading decentralized exchange on Binance Smart Chain (BSC), with lots of other features that let you earn and win tokens. It's fast, cheap, and anyone can use it. On top of that, you can earn with yield farms, and Staking BEP-20 tokens, and earn even more tokens with Syrup pools. Also, you can win big with the PancakeSwap Lottery!
PancakeSwap Perpetual trading fees are 0.02% of the notional value for makers and 0.07% for the taker. They always strive to add more utilities for the $CAKE token — hence, for this new feature, $CAKE will be the default payment option for trading fees, followed by $APX (ApolloX's token) and USDT. Any users who are paying the trading fees in CAKE will enjoy a 5% discount on trading fees.
How to join the PancakeSwap Perpetual Airdrop?
Requirements to earn free crypto coins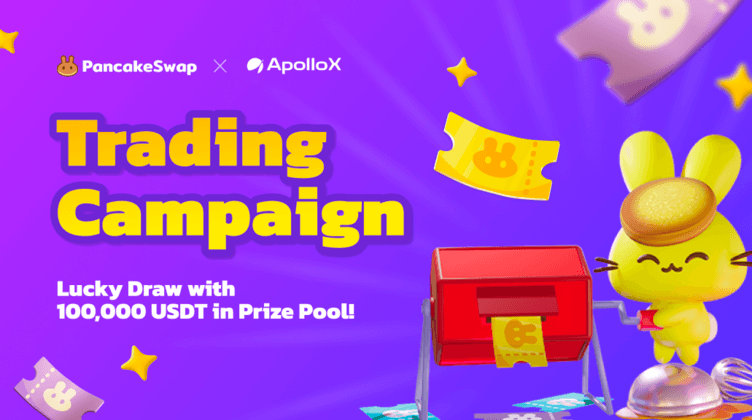 Native blockchain
Step-by-Step Guide ''PancakeSwap x ApolloX Trading Lucky Draw Event''
Visit the PancakeSwap Perpetual Trading Lucky Draw page, and read carefully.
Trade here any amount (Beginner Guide) with any pair, on 3 different days within one weekly period to qualify for that week! 25,000 $USDT will be up for grabs weekly, for 4 consecutive weeks!
To learn more about the PancakeSwap Perpetual - ApolloX trading infrastructure, please visit here for more details.
Lucky Draw Duration: 16 March 2022 - 12 April 2022 UTC with 4 weekly draw periods. Opening a position and closing a position qualify as two separate trades.

▪️ Winners will receive their rewards in their wallets within 14 business days after the end of each weekly period. Good Luck!
▪️ PancakeSwap Perpetual Trading does not require KYC, no intermediaries to interact with smart contracts.
Like and share the PancakeSwap x ApolloX Perpetual Trading Lucky Draw Event on your favourite SM!
Any feedback and suggestions, please let them know on Twitter, Telegram group, or Discord server, or over in their growing Reddit community!
When using decentralized applications (ÐApps), it's critical to remember that YOU are responsible for the security of your digital assets!
Disclaimer: Investors should take the time to research any given product before they invest their funds (DYOR).
Estimated value
~$ 100,000 Prize pool
Pancakeswap Perpetual Trading - Unofficial Video Review