Verified
Permission ($ASK) Airdrop
Permission.io Giveaway is worth 500,000 $ASK coins to be split equally between 50 random lucky winners. Join now for a chance to win!
In addition, you will receive 300 ASK coins for creating a Permission.io account & 100 ASK coins for every referral.

About Permission.io

Permission.io is a web3 advertising platform that enables users to earn crypto by engaging with Ads while browsing the web and monetizing their data. Permission.io is a tokenized advertising reward system powered by blockchain, with user consent embedded as part of its core functionality, creating an ecosystem where advertisers $ASK for permission to engage consumers with Ads and reward crypto from their engagement. Permission has a browser extension in the top 5% of downloads, a Google Cloud Partnership and a patent-pending Permission Ads platform that enables a true two-sided marketplace for ASK between advertisers and consumers.
The ASK coin is a native cryptocurrency created by forking Ethereum using GETH. The Permission blockchain will initially adopt a hybrid Proof of Authority (PoA)/Proof of Stake (PoS) approach to governance to ease the inclusion of PoS. It will then move completely to PoS when sufficient distribution has occurred. Permission.io appears in several highly regarded press releases.
How to join the Permission Airdrop?
Total Giveaway Allocation 200,000 $ASK
KYC KYC is NOT a requirement
Giveaway End Date 21 December, 2021
Requirements to earn free crypto coins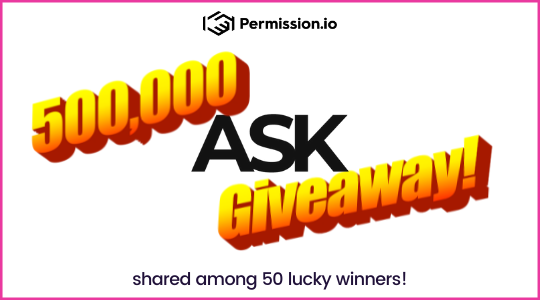 Native blockchain
Estimated value
~$ 1,000 Prize pool
Additional ICO information
Total Supply 100,000,000,000 ASK
Blockchain Permission.io network
Markets Bitglobal, Bitrue and ViteX
Permission Video