Verified
Pillar ($PLR - $MATIC - $PSP) Airdrop
This Christmas & New Year, Pillar, ParaSwap and Polygon - three industry players in Layer-2 technology - are joining forces to rain down tokens with an exciting Airdrop designed to inspire and reward their awesome communities. It's your chance not only to get rewards but learn how to transact and experience massively reduced gas fees using Ethereum supporting sidechain infrastructure.
Join the celebration and get rewarded for being at the forefront of the crypto space. Learn-To-Earn & Qualify For The $36,000 Multi-Token Airdrop $PLR, $MATIC, $PSP tokens.
This Airdrop highlights an array of cutting-edge sidechain ecosystems that work incredibly well together to massively reduce the high Ethereum network gas fees. It was a proposal passed through the Pillar DAO, the community-led Decentralised Autonomous Organisation.

About Pillar.Fi

Pillar is an app to manage all your crypto assets and NFTs in a simple, user-friendly way. It is a community-run, mobile smart wallet making DeFi accessible to everyone by supporting Ethereum and EVM-compatible chains in a unified multichain experience. It's governed by the Pillar DAO through its own native token ($PLR) and powered by a native multichain SDK, Etherspot.
The $PLR governance token unlock the user-owned and community-run character of the platform and is already tradable on PancakeSwap & Uniswap, and many others.
How to join the Pillar Airdrop?
Total Airdrop Allocation $36,000 worth of $PLR, $MATIC and $PSP tokens
Airdrop End Date 7 January, 2022
Reward distribution 1 week after the Airdrop closes
Requirements to earn free crypto coins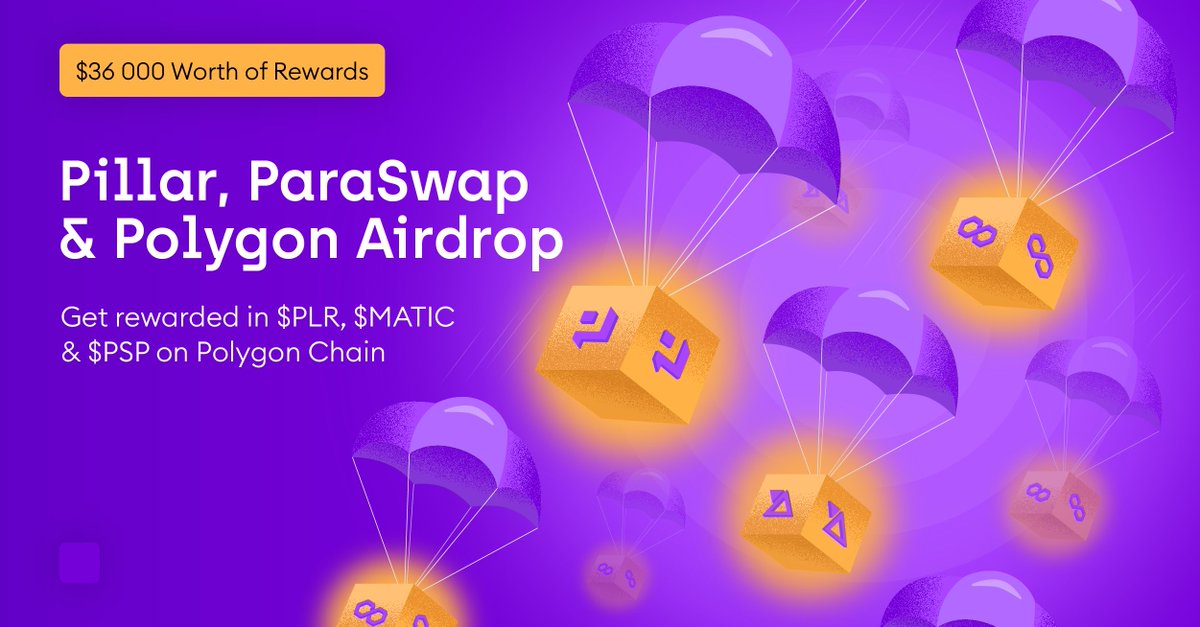 Native blockchain
Step-by-Step Guide ''Pillar Multi-Token Airdrop''
Visit the Pillar Airdrop page. Learn-To-Earn & Qualify For The $36,000 Airdrop:
Install the Pillar app - Only V2 addresses will receive the Airdrop.
Watch this video and learn how to activate your Polygon wallet.
▪️ U.S. users can use the Pillar V2 wert.io integration to purchase $MATIC on Polygon. Full how-to-guide here.
Make sure to swap at least $10 to $PLR using the in-app ParaSwap integration and hold all swapped $PLR until 14/01/22 to qualify for Airdrop rewards.
Like and share the Pillar Airdrop on your favourite SM!

Note: Pillar has partnered with Ramp Network to give users access to an 'on-ramp'. This allows depositing money into the Pillar app using a debit or credit card or by bank transfer. Ramp is available in 170+ countries and territories and allows users to purchase over 30 cryptocurrencies. Ramp is the first crypto company to receive an Open Banking License in Europe!


When using decentralized applications (ÐApps), it's critical to remember that YOU are responsible for the security of your digital assets!
Disclaimer: Investors should take the time to research any given product before they invest their funds (DYOR).
Estimated value
~$ 36,000 Prize pool
Pillar + Polygon + ParaSwap - Airdrop Video