Sponsored
Piratera ($PIRA) Airdrop
Piratera Airdrop prize pool is worth 50,000 $PIRA tokens (~$ 5,000) for 250 lucky participants.

About Piratera

Piratera is an open-world RPG game in which players are able to earn tokens by joining in-game battles or contributing to the ecosystem. In the game, each player owns a pirate crew consisting of several members and sets out on a challenging journey to uncover the Greatest Treasure hidden amidst the vast ocean...
All Piratera NFTs are CrossNFT, a standard created to define NFTs for games and applications, and can be easily accessed with CrossNFT SDK, allowing other developers to quickly build their own games or applications with tons of prepared characters, items, and lands.
Piratera Token is a BEP-20 governance token for the Piratera World. $PIRA holders can exchange from PIRA to in-game currency, trade on the marketplace, stake to claim rewards and participate in key governance votes.
How to join the Piratera Airdrop?
Requirements to earn free crypto coins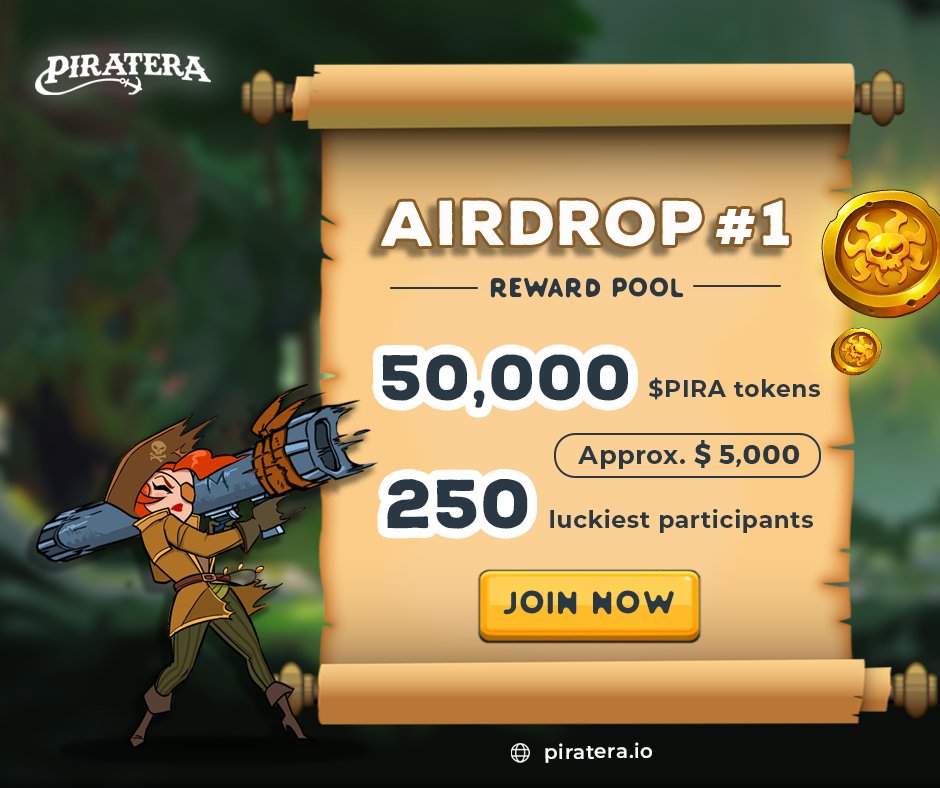 Native blockchain
Step-by-Step Guide ''Piratera Airdrop''
Login to the Piratera Airdrop page.
Follow @PirateraBay on Twitter & Retweet.
Complete all the tasks to earn entries.
Submit your BSC wallet address and details to the Gleam page. 50,000 $PIRA tokens will be distributed to 250 luckiest participants. The more entries you have, the higher opportunity to be a winner!
Within 10 days after closing the Airdrop, Piratera will send a whitelist and instructions on how to claim free $PIRA tokens to participants by Telegram, Discord, Facebook and Twitter.
Players can also Earn $PIRA by participating in the game and doing game's quests.
Like and comment below if you like the Piratera Airdrop!
When using decentralized applications (ÐApps), it's critical to remember that YOU are responsible for the security of your digital assets!
Disclaimer: Investors should take the time to research any given product before they invest their funds (DYOR). "Buy Bitcoin with Credit Card"
Estimated value
~$ 5,000 Prize pool