Closed
Unverified
PolkaDomain (NAME) Airdrop
It looks like you are too late! This airdrop is closed
Looking for new airdrops?
Visit our Featured & New Airdrops pages.
PolkaDomain Airdrop is worth 200,000 NAME tokens, 25% to [.eth] ENS owners and 75% to randomly selected participants.

About PolkaDomain

PolkaDomain is an interoperable and decentralized blockchain naming service with an integrated domain and NFT marketplace built on Polkadot. The NAME Token serves as a utility token facilitating payments and governance inside the Polka.Domain ecosystem. NAME token can be obtained by Domain Mining which will be explained in detail in the upcoming days.
The summary of features is described below:
Decentralized domain name service built on Polkadot. Exchange, transfer, and auction domains
Domains as NFTs
Hexadecimal wallet addresses converted into domain names, users can make on-chain transactions with domains
Cross-chain interoperability provided by Polkadot
Domain & NFT marketplace
How to join the PolkaDomain Airdrop?
Total Airdrop Allocation 200,000 NAME (2% of the Total Maximum Supply)
Airdrop Registration Period April 11th — April 15th
KYC KYC is not a requirement
Requirements to earn free crypto coins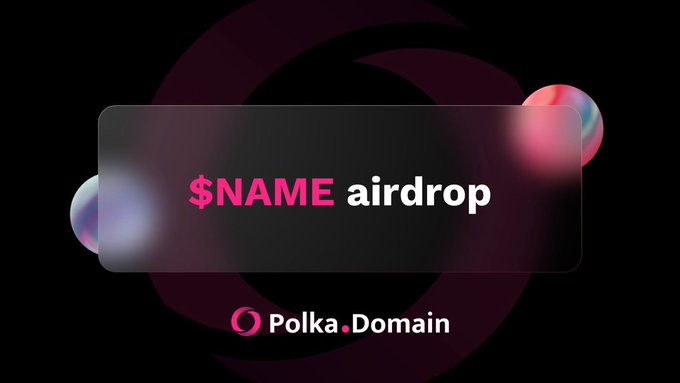 Native blockchain
Step-by-Step Guide ''PolkaDomain Airdrop''
Visit the PolkaDomain Airdrop form.
Follow @PolkaDomain on Twitter.
Create a Tweet with this Medium link and use "$NAME" in the Tweet.
Submit your Ethereum wallet and details to the Airdrop form.
Airdrop participants will receive tokens on April 17th after NAME has listed on Uniswap.
If you like the PolkaDomain Airdrop, don't forget to Like/Comment below.
Disclaimer: Investors should take the time to research any given product before they invest their funds (DYOR). ''Buy Crypto with a Credit Card''
Estimated value
n/a
Additional ICO information
Maximum Supply 10,000,000 NAME
Public Sale Public sale details will be announced soon!
Total amount to raise $450,000