Verified
Polkamon (EGG NFT) Airdrop
Polkamon Drop is offering everyone the chance to claim their stake in the Manifold Universe of Polkamon. For a limited time, up until one day before the IDO on Polkastarter, you will be able to register your address and claim a Mysterious Polkamon Egg.
Curious what will hatch from the mysterious Egg? Just connect your wallet, and you might find out shortly.

About Polkamon
Polkamon brings exquisitely animated digital collectibles created using blockchain technology. Each Polkamon is backed by a truly unique NFT that is indistinguishable from any other NFT and can be unpacked with $PMON tokens, the native ERC-20 token on the Polkamon platform. Each collectible is inimitable, authentic and differs in rarity. Polkamon exist in many shapes and colours, each differing in rarity and uniqueness. You can find the growing list of Polkamon here.
The Polkamon team is constantly building relationships with potential partners for L2 utilization in the space of game, NFT Art and other collectibles. To accelerate this process Polkamon exists in native mobile apps, widgets and Polkadex.
How to join the Polkamon Airdrop?
Drop prize pool 180 NFTs
Referral program No Referral Program
KYC KYC is not a requirement
Requirements to earn free crypto coins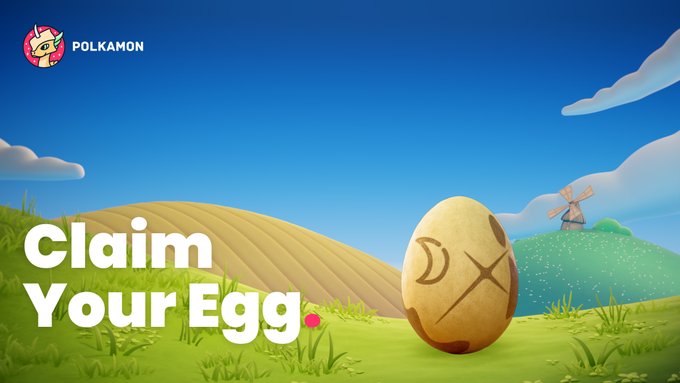 Native blockchain
Step-by-Step Guide ''Polkamon Drop''
Visit the Polkamon Drop page & Connect your Ethereum wallet.
Click on the ''Claim Egg'' button. ETH Gas fee will apply. To reduce gas fees, the egg will be virtually attached to your Ethereum address and not minted as a real NFT. They are doing this to make it as cheap and accessible for everyone as possible!
One day before the Polkastarter IDO, 100 lucky participants will receive a mysterious Polkamon egg as an NFT. Only time will tell what's inside, but it could be a rare little monster waiting for you to be collected.
Another 80 participants will receive an ultra-rare 'Moonrock Capital x Morningstar Ventures' Silver Baby Dragon as an NFT. This particular NFT will have an additional utility, such as granting you access to the Polkastarter IDO, which is taking place soon.
If you like Polkamon Drop, don't forget to Like/Comment below. Stay tuned for further community competitions that will offer additional chances to receive mysterious Polkamon NFTs! They will be announcing these contests shortly via our official Telegram and Twitter.
Disclaimer: Investors should take the time to research any given product before they invest their funds (DYOR). ''Buy Crypto with a Credit Card''
Estimated value
n/a
Additional ICO information
Public sale price 1 PMON = $ 0.35
IDO platform Polkastarter.com
Uniswap Listing price 1 PMON = $ 0.40
Total Supply 10,000,000 PMON
Blockchain Standard Polkadot
Markets TBA
Polkamon Video Review