Sponsored
PumpIT ($PumpIT) Airdrop
PumpIT Airdrop prize pool allocation is $50,000 worth of PumpIT tokens & $1,000,000 more over the next 6 months.

About PumpIT

PumpIT is the First Meme Token of 2022 in memory of Mr Pump IT himself to keep his legacy alive! The First OG of Crypto Memes #HeSoldPumpIT. $PumpIT will generate awareness and cultivate mainstream adoption by leveraging the incredible power of memes and aggressive marketing.
PumpIT is building a top-notch community-driven NFT and token launchpad dedicated to pumping the most promising startups into the exciting and disruptive crypto space.
Initially, $PumpIT will be listed on Pancakeswap as a BEP-20 token and will be tradable using any compatible wallet that supports Binance Smart Chain.
How to join the PumpIT Airdrop?
Total Airdrop Allocation $50,000 worth of PumpIT in Round 1 + $1,000,000 more over the next 6 months
Number of Winners 50,000 Random Winners in Round 1
Airdrop End Date 8th April 2022 @ 11:59 pm
Requirements to earn free crypto coins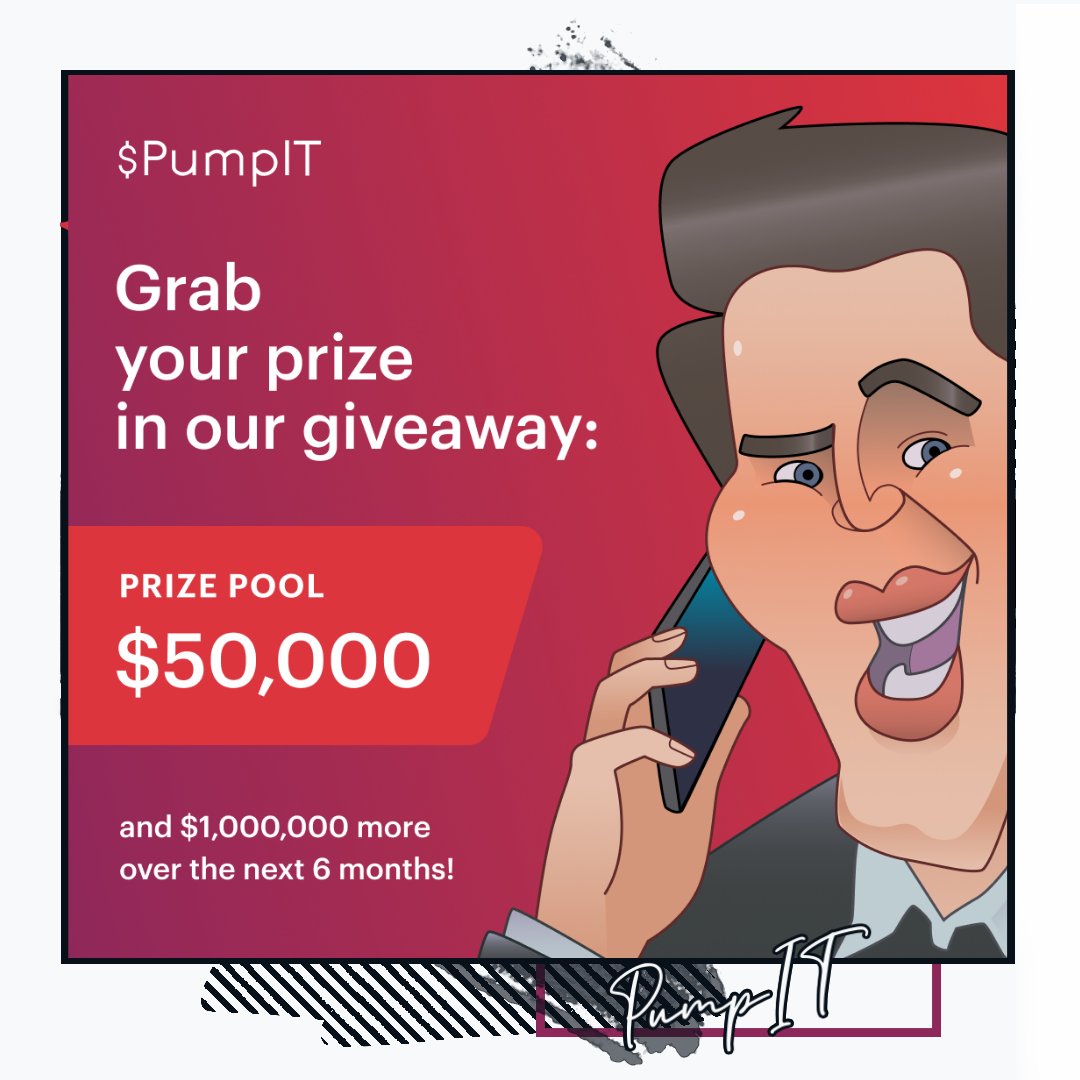 Native blockchain
Step-by-Step Guide ''PumpIT Airdrop''
Visit the PumpIT Airdrop page.
Join PumpIT on Telegram Channel & Group & Add a unique comment (Minimum of 7 words). Perhaps, what do you expect from $PumpIT? Or, what do you like the most about $PumpIT?
Follow @PumpIT_io on Twitter & Like + retweet the pinned Tweet tagging 5 friends.
Follow PumpIT on Medium & Leave a clap for the linked article.
Follow PumpIT on Instagram & Like the Airdrop post, leave a comment about the project and tag at least 5 friends.
Submit your BSC wallet address and details to the Sweepwidget page.
▪️ 50,000 lucky winners who followed the rules will receive $1 worth of $PumpIT tokens and $0,50 worth of $PumpIT tokens for every referral.
Like and share the PumpIT Airdrop on your favourite SM!
When using decentralized applications (ÐApps), it's critical to remember that YOU are responsible for the security of your digital assets!
Disclaimer: Investors should take the time to research any given product before they invest their funds (DYOR).
Estimated value
~$ 1,050,000 Prize pool
Additional ICO information
Presale Token Price 1 $PumpIT = ~$ 0.000012
Blockchain Network Binance Smart Chain (BEP-20)
Markets TBA
He Sold? Pump It - YouTube Video