Caution
Verified
Revulution NFT ($Free subscriptions to Netflix & Spotify for life) Airdrop
Revulution NFT Drop by Revuto is a unique opportunity to achieve Free subscriptions to Netflix & Spotify for life. Goodbye price hikes!

About Revuto
Revuto revulutionizes finance services and saves money by changing the way to pay for any subscription-based service in the world, for any period, and allows monetize the subscriptions you don't use by sending or selling unused subscription periods to others. From gym memberships to SaaS products, Revuto is creating a whole new market revulution.
Revuto is now introducing a limited supply of 10,000 Revulution NFTs to announce the revulution of the subscription economy with NFTs, which will allow its owners to enjoy a free subscription to Netflix or Spotify as long as they hodl the NFT in the Revuto app.
$REVU is a native token on the Cardano network. The main incentive for hodling REVU tokens is to save money while paying for your subscription charges and to pose as collateral for micro-loans. Tokenomics is set up to use up to 40% of the revenue generated from the transaction fees and DeFi fees for REVU token buyback.
How to join the Revulution NFT Airdrop?
Requirements to earn free crypto coins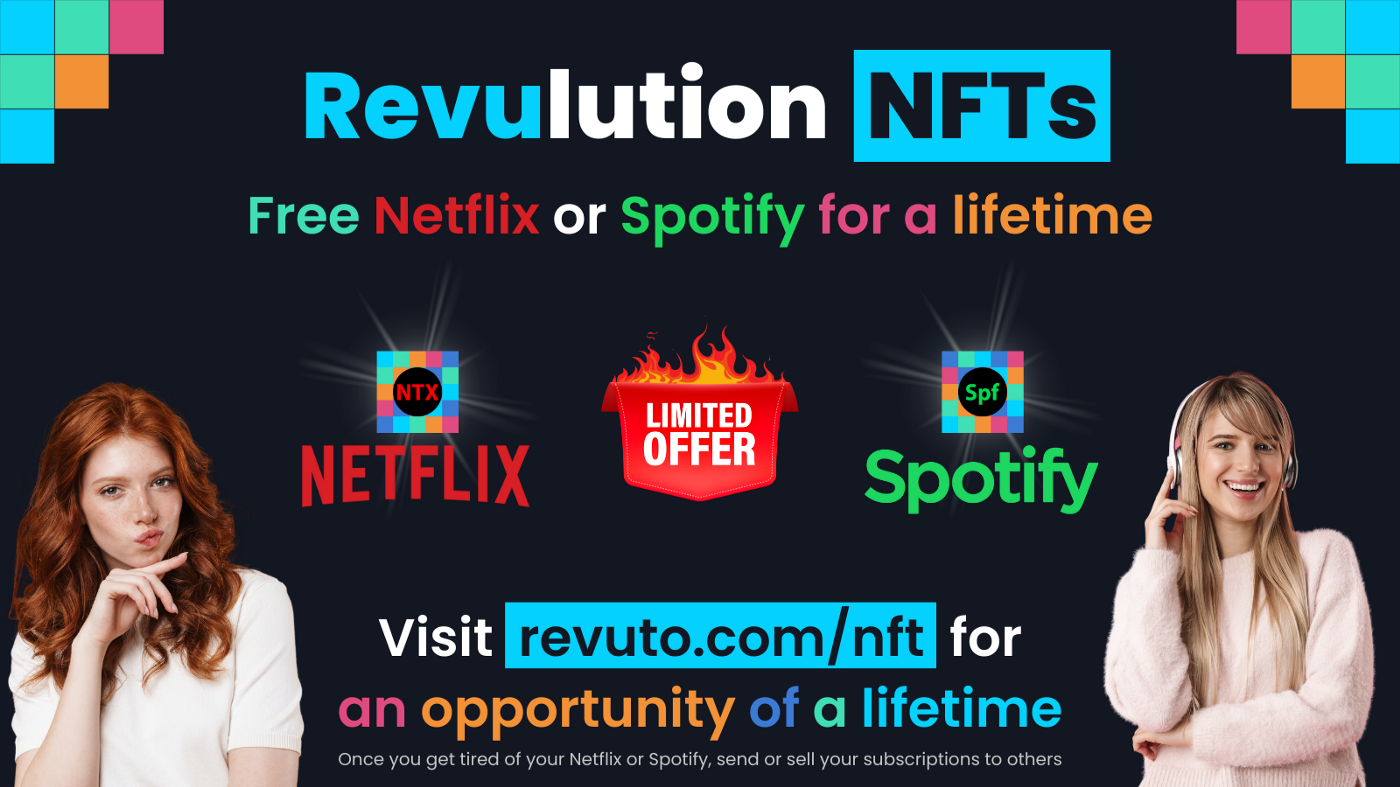 Native blockchain
Step-by-Step Guide ''Revulution NFT Drop''
Head to the Revulution NFT Drop page.
Buy a lifetime Netflix or Spotify subscription as an NFT, and as long as you hold the Revuto NFT in the Revuto app, Revuto will pay for your subscription every month!

▪️ There will be a limited number of only 10,000 Revulution NFTs available for purchase via the Revuto.com/NFT webpage. Act fast! If you get tired of Free subscriptions, feel free to sell your NFT to others. Good Luck!

Like and share the Revulution NFT Drop on your favourite SM! The previous Revuto Airdrop has been successfully completed!
When using decentralized applications (ÐApps), it's critical to remember that YOU are responsible for the security of your digital assets!
Disclaimer: Investors should take the time to research any given product before they invest their funds (DYOR).
Estimated value
∞
Revulution NFT by Revuto - Video