Closed
Verified
Seedify.fund Giveaway (SFUND & NFTs) Airdrop
It looks like you are too late! This airdrop is closed
Looking for new airdrops?
Visit our Featured & New Airdrops pages.
Seedify.fund Giveaway is worth 30 SFUND tokens (~$ 120) for 250 random lucky winners to celebrate the community's decision on which cross-chain bridges they should develop first.

About Seedify.fund
Seedify.fund is a decentralized seed fund & incubator, for empowering next innovations of the blockchain ecosystem through community-driven, DAO-based funding decisions, category-based feedback & support environment, and involvement mechanisms.
Any entrepreneur/innovator can submit their projects to Seedify.fund DAO project proposals, get voted by the community on the blockchain, and get their seed fund as well as enter the incubation program if they win the community votes.
Seedify.fund get 3% of tokens from each project and distribute them among stakers, community members, and reallocations for more funding and operations, thus rewarding more and more tokens from each project selected, unlocking a DeFi-like seed funding mechanism in the process.
How to join the Seedify.fund Giveaway Airdrop?
Tokens Per Airdrop 30 SFUND
Number of Winners 250 random lucky winners
KYC KYC is not a requirement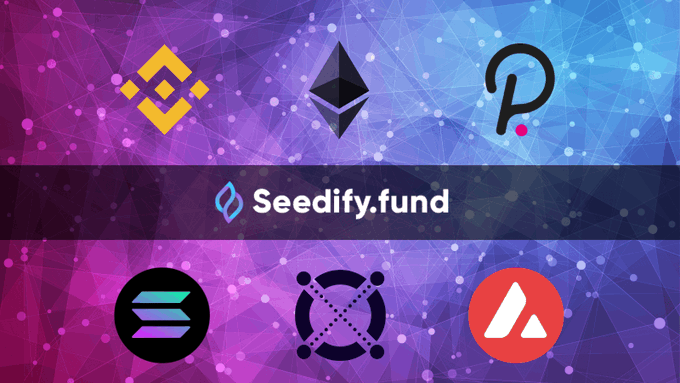 Native blockchain
Step-by-Step Guide ''Seedify.fund Giveaway''
Visit the Seedify.fund Giveaway page.
Follow @SeedifyFund on Twitter.
Complete more tasks to earn more entries.
Invite your friends for extra entries.
In addition, you can participate for a chance to win 1 unique Beeple Animated NFT & 1 unique SatoshiNakamoto Animated NFT. Good Luck!


If you like Seedify.fund Giveaway & Unique NFTs Giveaway, don't forget to like and comment below!
Disclaimer: Investors should take the time to research any given product before they invest their funds.
Estimated value
~$ 120
Additional ICO information
Total Supply 100,000,000 SFUND
Blockchain Standard Binance Smart Chain
Markets PancakeSwap, JulSwap, and BakerySwap
Seedify.fund Video review