Featured
Unverified
Singh (SINGH) Airdrop
It looks like you are too late! This airdrop is closed
Looking for new airdrops?
Visit our Featured & New Airdrops pages.
Update 1-2-2019 Singh app is now available for Android. In the following months, it will also be released for iOS and KaiOS.
Singh Airdrop is worth 720 SINGH tokens (~$ 180).

About Singh

Singh is a Democratic Content Creation Network, in the form of a mobile Application, where people all over the world can monetize their talent, by participating in special campaigns with a prize in real money, in the form of Singh Credits, which can be turned into Amazon Gift Cards or used to buy merchandise from the App's Shop. Each campaign is created by an Advertiser by paying SINGH ERC20 tokens and features a unique set of rules, the Advertiser could ask Singh users to design his new logo, or to take a picture of themselves with a particular book, to make a video about their favorite restaurant... Anything really!

How to join the Singh Airdrop?
Tokens Per Airdrop 720 SINGH
Tokens Per Referral Referral program coming soon on the App
Team KYC Not completed by team yet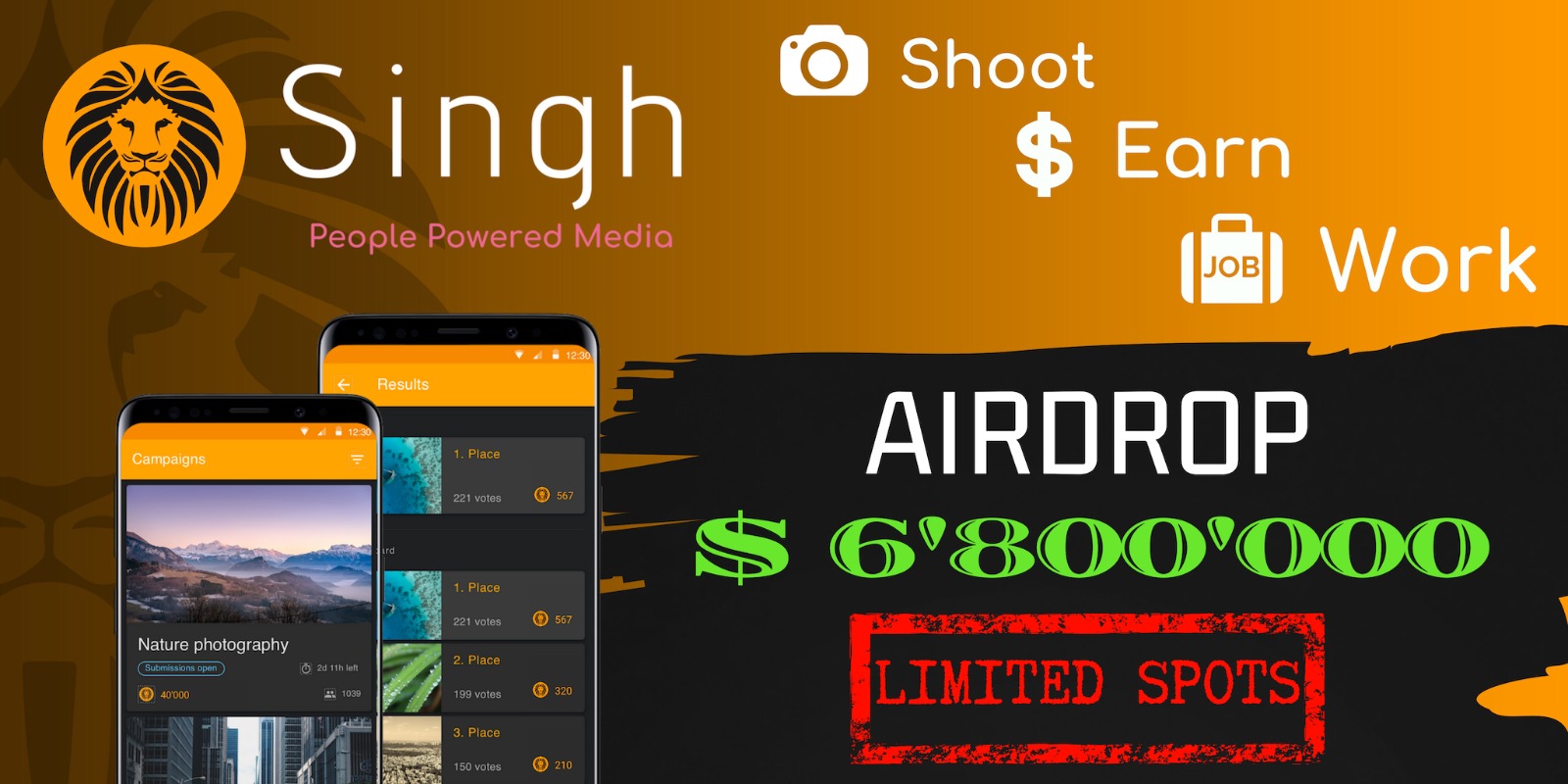 Native blockchain
Step-by-Step Guide Singh Airdrop
Go to the Singh Airdrop page.
Click on ''Subscribe now to get your Airdrop''.
Insert your email address & Confirm your subscription.
When the App is released on January 20th, you will receive an email with a google play link: Download and install the Singh app on your Android device. In the following months, it will also be released for iOS and KaiOS.
Once you have installed the App, you will see a list of campaigns. They all have a prize in Singh Credits, which can be converted to Amazon Gift Cards! To get your free SINGH tokens and Singh Credits you'll have to submit your original picture to the campaign, following the Rules in the Campaign Page.
Once your picture has been approved, you'll be asked to vote the other users' pictures. Remember: You need to both submit your picture AND vote to receive your airdrop reward!
10 days after the voting phase ends, you will receive your airdrop SINGH tokens in your Ethereum wallet address created in the Singh app upon installation.

Note: SINGH tokens are not convertible to vouchers, but can be used to create campaigns and traded on crypto exchanges upon the listing of the token.
If you use the ''CLAIM AIRDROP'' button below to claim the Singh airdrop, it will automatically show on the main page with a purple check mark. So you can easily track which airdrops you joined and which ones you need to join.
Estimated value
~$ 180
Additional ICO information
ICO No ICO
Token Estimated value 1 SINGH = 0.25 USD
Headquarters Lugano, Switzerland
Singh Video