Verified
Slope Finance (closed) ($NFT) Airdrop
Since this year's Halloween is close by, Slope Finance on this occasion would like to collaborate with global communities to launch a Halloween NFTs Airdrop event to spice up the Halloween vibe. The Slope team will design a variety of NFTs and customize Airdrop events for their global communities. Participants who meet the requirements will get the $NFT for Free!

About Slope Finance

Slope Finance is a community-driven full-stack platform that consists of the sectors of DEX, Wallet, and NFTs built on Solana, provides blazing-fast speed, nearly-zero transaction fees, and an intuitive interface to users. Their goal is to forge a "Robinhood of DeFi." Slope Finance is featured on CoinTelegraph.

How to join the Slope Finance (closed) Airdrop?
Requirements to earn free crypto coins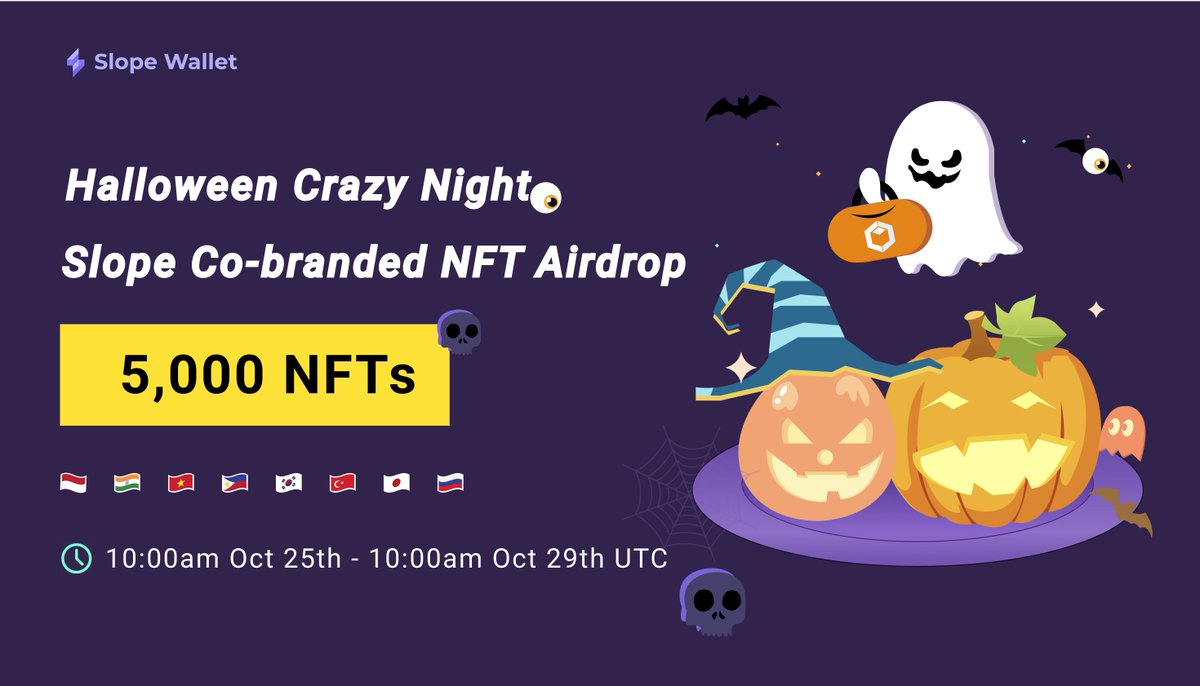 Native blockchain
Step-by-Step Guide ''Slope Halloween NFTs Crazy Night Airdrop''
Go to the Slope Halloween NFTs Crazy Night Airdrop Form.
Follow @Slope_Finance on Twitter.
Join Slope Finance on Discord.
Submit your Slope Wallet address and details to the Google Form.
The winners will be randomly selected and announced by the Slope team. Winners should claim NFTs within the specified time, otherwise, they will not be able to claim. All Slope Finance NFTs will also be used as vouchers, stay tuned for activities in the future. In addition, X10 random winners will win 1,000 $SLOPE tokens each
▪️ Winners will be announced by 10:00 am Oct 31th UTC. Winners can claim their NFT at Slope Mobile Wallet on 12:00 pm Nov 1st UTC within 48 hrs.
Don't forget to like and comment below if you joined the Slope Finance Airdrop!
Disclaimer: Investors should take the time to research any given product before they invest their funds (DYOR). "Buy Bitcoin with Credit Card"
Estimated value
n/a
Slope Wallet - Video