Closed
Verified
Solana x Huobi Global (SOL) Airdrop
It looks like you are too late! This airdrop is closed
Looking for new airdrops?
Visit our Featured & New Airdrops pages.
Solana Airdrop contest is worth 25,000 SOL tokens (~$ 53,000), in partnership with Huobi Global to celebrate Solana's listing. Share your referral link to participate in the Solana referral contest as well.

About Solana

Solana is a revolutionary open-source project implementing an innovative high-performance, permissionless blockchain, founded by former Qualcomm, Intel, and Dropbox engineers in late-2017, when Anatoly Yakovenko, the founder, published a whitepaper describing 'Proof of History', a technique for keeping time between computers that do not trust one another. Anatoly watched as blockchain systems without clocks, such as Bitcoin and Ethereum, struggled to scale beyond 15 transactions per second when centralized payment systems such as Visa required peaks of 65,000 tps. It is worth mentioning that Anatoly Yakovenko holds 2 patents for high-performance Operating Systems protocols.
Solana (SOL) is building the fastest blockchain in the world and has partnered with Terra to bring stablecoin into ÐApp Ecosystem, according to CoinTelegraph.
How to join the Solana x Huobi Global Airdrop?
Tokens Per Airdrop Giveaway Contest
Tokens Per Referral Leaderboard Contest
KYC KYC is not a requirement
Requirements to earn free crypto coins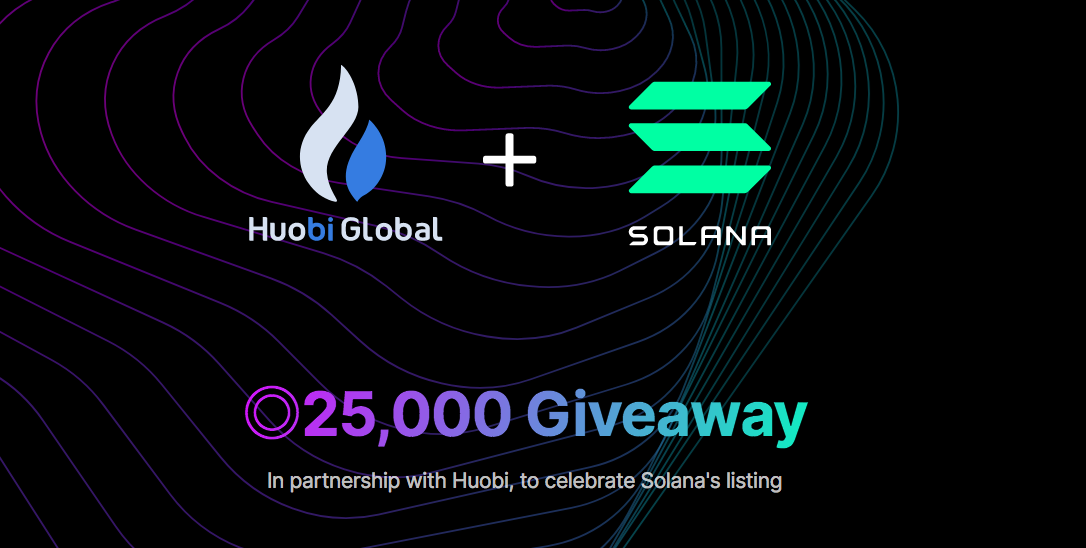 Native blockchain
Step-by-Step Guide ''Solana Airdrop contest''
Visit the Solana Airdrop form.
Have an account at Huobi Global.
Sign up for the Solana Newsletter.
Join Solana on Telegram.
Follow Solana on Twitter.
Complete the Quiz.
Submit your Huobi ID and other details to the Solana Airdrop form.
17,251 random winners will receive SOL Prizes in their Huobi Global account.
Share your referral link to participate in the Solana referral contest.
If you like the Solana Airdrop contest, don't forget to upvote and comment below.
Estimated value
~$ 53,000 in total
Additional ICO information
Circulating Supply 46.264.737 SOL
Total Supply 488.596.851 SOL
Markets Binance, OKEx, FTX, and more
Solana Video