Closed
Verified
Standard Tokenization Protocol by BitMax.io (STPT) Airdrop
It looks like you are too late! This airdrop is closed
Looking for new airdrops?
Visit our Featured & New Airdrops pages.
Standard Tokenization Protocol Airdrop is worth 30.000 STP tokens (~$ 2400) in total. Share your referral link to earn up to 100 points for every referral.

About Standard Tokenization Protocol & BitMax.io

Standard Tokenization Protocol is an open-source standard defining how tokenized assets are issued and transferred while complying with all necessary regulations. Tokens built on top of the STP-Standard will use the protocol's on-chain Validator to verify compliance with any jurisdictional or issuer-specific requirements. Standard Tokenization Protocol allows assets to be tokenized in a way that makes them fully compliant across jurisdictions and transferable across any blockchain platform. STPT is being traded at Bittrex International exchange.

BitMax.io is the industry's next generation digital asset trading platform that provides a broad range of financial products and services to both retail and institutional clients across the globe. This innovative trading platform was founded by a group of Wall Street quant trading veterans and built upon the core value of blockchain, transparency, and reliability to deliver high-quality client services and trading experience.

Would you like to receive the latest free Airdrop Alerts? Join our Telegram or Twitter.
How to join the Standard Tokenization Protocol by BitMax.io Airdrop?
Tokens Per Airdrop Based on Entries & Points earnings
Tokens Per Referral Up to 100 points
Airdrop Pool 30.000 STPT
Requirements to earn free crypto coins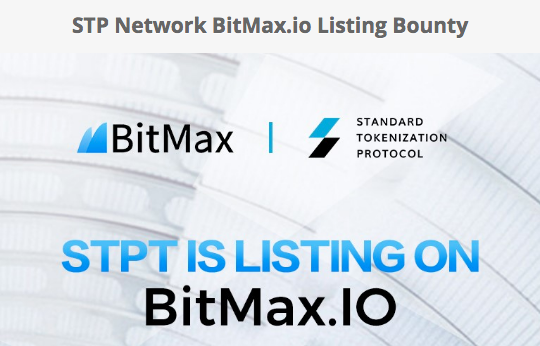 Native blockchain
Step-by-Step Guide Standard Tokenization Protocol Airdrop
Sign up for the Standard Tokenization Protocol Airdrop page.
Have an account at BitMax.io exchange & Get your BitMax ERC-20 wallet address.
Perform the different social tasks to earn more entries.
Share your referral link to earn up to 100 points for every referral.
Ratio of STPT token to valid gleam entry is 1:10.
5 STPT tokens will be the minimum requierement for the bounty token distribution.
STPT tokens will be distributed to wallet and email linked to your BitMax Account.

For more details about the airdrop, see the Official Announcement.

If you like the Standard Tokenization Protocol Airdrop, don't forget to upvote and comment below.
Estimated value
~$ 2400 in Total
Additional ICO information
Trading price 1 STPT ≈ 0,081447 USD
Circulating Supply 132.534.852 STPT
Maximum Supply 2.000.000.000 STPT
Blockchain Standard ERC-20 based Utility Token
Markets BitMax, Bittrex and Upbit
Headquarters Singapore
Standard Tokenization Protocol Video