Closed
Sponsored
Stater (STTR) Airdrop
It looks like you are too late! This airdrop is closed
Looking for new airdrops?
Visit our Featured & New Airdrops pages.
Stater Community Airdrop Contest is worth $10,000 in STTR Tokens for the top 3 winners on the leaderboard.
The Prizes will be distributed following the structure below:
🏆 1st Place: 4,000 USD in STTR Tokens
🏅 2nd Place: 2,000 USD in STTR Tokens
🏅 3rd Place: 1,000 USD in STTR Tokens
🎖 Out of Top 250 on Leaderboard, Top-20 Random Winners Get $100 Each in STTR Tokens

About Stater

Stater is building an open-source P2P decentralized lending platform for NFT assets that will offer users the option to leverage and unlock the value of their NFT assets without losing ownership. The main goal is to bring DeFi into the NFT market and use liquidity mining as a tool for community and incentivizing users to participate in STTR Uniswap liquidity pools. The Stater lending platform will be non-custodial and will have two main ways of facilitating transactions between lenders and borrowers. STTR token is already being traded on Uniswap.
How to join the Stater Airdrop?
Tokens Per Airdrop Leaderboard based
Airdrop End Date 3 February, 2021
KYC KYC is not a requirement
Requirements to earn free crypto coins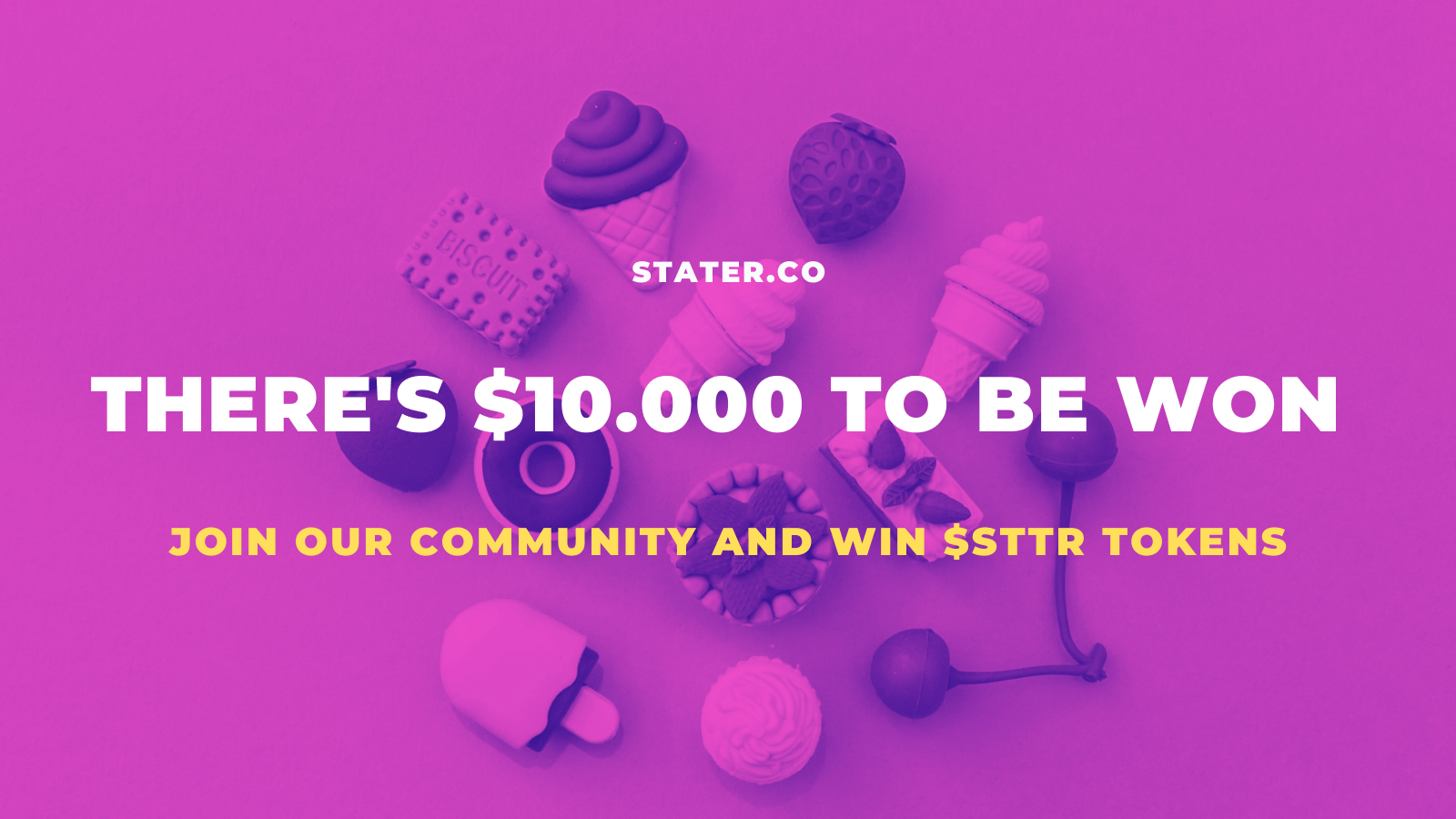 Native blockchain
Step-by-Step Guide ''Stater Airdrop''
Log in to the Stater Airdrop Contest page.
Complete Actions, Earn Points and Rise to the Top of the Leaderboard for the Big Prize.
Share the contest with Friends for +15 extra Points.
Stater will contact the winners for prize distribution in the first 14 days after the contest is over.
Note: Stater smart contracts have not been audited yet, Stater team still working on this part, use at your own risk!

For more information, check the Stater Airdrop blog.

If you like the Stater Airdrop, don't forget to upvote and comment below.
Estimated value
~$ 10,000 in total
Additional ICO information
STTR Token value 1 ETH ≈ 4925 STTR on Uniswap
Total Supply 10,000,000,000 STTR
Blockchain Standard Ethereum Network
Stater Video