Verified
Stellar Quest (XLM) Airdrop
Stellar Quest campaign allows participants to get rewarded for learning all about how to use Stellar's APIs and SDKs. Learn Stellar, Collect NFTs, Earn XLM!

About Stellar

Stellar is an open network for storing and moving money. Stellar makes it possible to create, send, and trade digital representations of all forms of money: dollars, pesos, bitcoin, pretty much anything. It's designed so all the world's financial systems can work together on a single network.
Stellar's API and SDKs are ready to help you transform the world of finance, and the network's currency connections could give even a small company the power and reach of an international bank.
How to join the Stellar Quest Airdrop?
Requirements to earn free crypto coins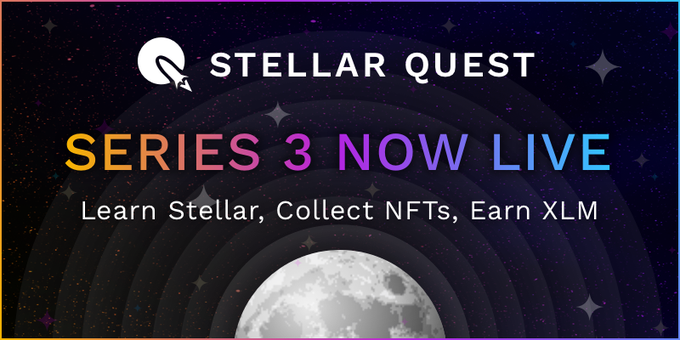 Native blockchain
Step-by-Step Guide ''Stellar Quest''
Visit the Stellar Quest page.
The Stellar Quest mobile app will allow you to play through a series of challenges requiring you to accomplish some modular task with Stellar's API or SDKs. These challenges are known as "Quests".
Each quest will include a goal – something you need to do with the Stellar API or SDKs – along with links to tools and resources to help you figure out how.
Every quest you complete for the first time will unlock a new NFT reward and maybe some actual real-world XLM as well! You can also replay previous quests to study up, learn the SDKs, and get ready for the next round of challenges.
When a quest first goes live, you'll square up against 19 other players to complete the goal as fast as you can. The faster you are, the more XLM you'll earn, with awards ranging from 500 XLM to 10 XLM.
Quests are released in sets, one at a time. A new one will come out every few days, and for the first hour after they go live you'll be able to register to complete it alongside 19 others for XLM.
If you like the Stellar Quest, don't forget to Like/Comment below.

Disclaimer: Investors should take the time to research any given product before they invest their funds. ''Buy Crypto with a Credit Card''
Estimated value
n/a
Stellar Quest Video