Closed
Verified
StormGain round 3 (USDT) Airdrop
It looks like you are too late! This airdrop is closed
Looking for new airdrops?
Visit our Featured & New Airdrops pages.
StormGain Coin Contest Airdrop is worth 100,000 USDT tokens in total.
Trade on a Demo account and earn Real Money! Without any risks!
Be one of the competition's 500 Winners. The prize fund shall be distributed in accordance with Table 1: 1st prize = 5,824 USDT, 2nd prize = 3372 USDT, 3rd prize = 2146 USDT, etc...

In addition, StormGain Bonus Airdrop is worth 25 USDT tokens. MAKE YOUR FIRST DEPOSIT AND GET A 25 USDT WELCOME BONUS!

About StormGain

StormGain is a new creative crypto exchange that could probably escape Binance's shadow according to Bitcoin.com. The platform offers free demo accounts to simulate trading and two options for real account trading: traditional, suitable for beginners, and advanced, for more experienced traders with a multiplier of up to 200x. All this while remaining the exchange with the lowest fees among competitors. StormGain is already listed on CoinMarketCap.
StormGain has signed a sponsorship deal with the superstar English Premier League football club Newcastle United and is proud to have a place on Newcastle players' sleeves in the 2019/ 2020 season as reported by Financial Yahoo, SportBusiness SPONSORSHIP, and SportPro, among other prestigious information sources.

Would you like to earn Ethereum with Airdrop Alert? Have a look at our ETH referral Airdrop!
How to join the StormGain round 3 Airdrop?
Tokens per Coin Contest Airdrop 100,000 USDT prize pool
Tokens Per Bonus Airdrop 25 USDT
Tokens Per Referral No Referral Program
Requirements to earn free crypto coins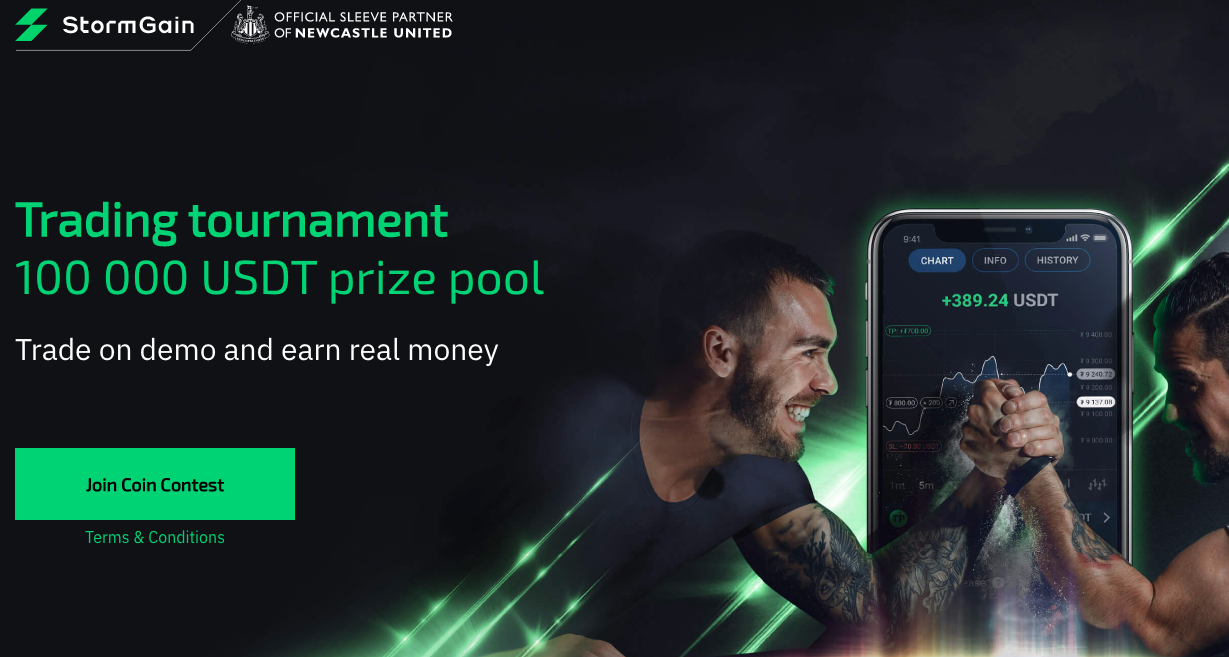 Native blockchain
Step-by-Step Guide ''StormGain Coin Contest Airdrop''
Visit the StormGain Coin Contest Airdrop page.
Fill in the registration form and use your Demo account of 50,000 USDT, without any risks!
Do your best trades during the tournament! The Participants who achieve the highest aggregate profit on all trades completed within the scope of the Tournament shall be declared the Winners. Click on 'Terms & Conditions' on the following link for more information.
Track your score live and be one of the competition's 500 winners. You have lots of chances to win! Good luck!
The start date of the Tournament shall be 21:01 GMT on 12/03/2020 and its end date shall be 21:00 GMT on 09/04/2020.
Step-by-Step Guide ''StormGain Bonus Airdrop''
Register for the StormGain Bonus Airdrop Bonus. Enter the promo code "BONUS25" in the promo code field.
Log in to your account and go to select 'Profiles Settings' & Verify your mail and phone number.
Deposit at least 100 USDT to your trading account to activate the welcome bonus worth 25 USDT. ''Buy Bitcoin with Credit Card''
Open your first trade, make profits and withdraw whenever you like.

If you like the StormGain Airdrop, don't forget to upvote and comment below.
Estimated value
~$100,000 + Bonus
StormGain Video