Closed
Verified
Stratis (STRAX) Airdrop
It looks like you are too late! This airdrop is closed
Looking for new airdrops?
Visit our Featured & New Airdrops pages.
Stratis Airdrop is worth 100,000 STRAX tokens (~$ 60,000) to be distributed on a per-entry basis.

About Stratis
Stratis is a powerful and flexible Blockchain Development Platform designed for the needs of real-world financial services, businesses and other organizations that want to develop, test and deploy applications on the Blockchain. Stratis Blockchain apps can be developed in pure C# and can also utilize the Microsoft .NET framework, while also taking advantage of the powerful Stratis APIs and framework. Stratis' Smart Contracts in C# are for companies and individuals interested in the development of a secure, immutable, (legally-binding) agreement represented transparently in code.
Stratis Full Node employs a future-proof and environmentally sustainable consensus protocol, which can utilize multiple mining algorithms, including Proof-Of-Stake (PoS), Proof-Of-Work (PoW) and further algorithms that are in development. The Full Node maintains an up-to-date copy of the blockchain and can support the Stratis and Bitcoin blockchain network. Each Full Node can autonomously and authoritatively validate blocks and transactions on either network.
Stratis private chains allow businesses to deploy their own customized Blockchains without the overheads inherent in running their own Blockchain network infrastructure. The Stratis cryptographic token (STRAX) fuels the Stratis Platform and acts as a value transfer vehicle in the Stratis marketplace. STRAX token is tradable on Binance exchange.
How to join the Stratis Airdrop?
Airdrop Pool 100,000 STRAX
KYC KYC is not a requirement
Airdrop End Date 24 December 2020
Requirements to earn free crypto coins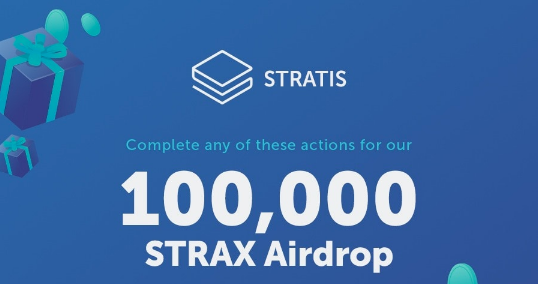 Native blockchain
Step-by-Step Guide ''Stratis Airdrop''
Visit the Stratis Airdrop page.
Download the Stratis wallet. Disclaimer: Software downloads are always provided at your own risk.
Submit your STRAX wallet address to the Airdrop page and sign up.
Complete different social tasks and earn entries.
The total number of entry points will be divided by the 100,000 STRAX Airdrop to achieve an airdrop amount per entry.

If you like the Stratis Airdrop, don't forget to upvote and comment below.
Estimated value
~$ 60,000 in total
Additional ICO information
Total Supply 100.074.298 STRAX
Blockchain Standard Strax Blockchain
Markets Binance, Bittrex, Bithumb, and others
Stratis Video