Verified
Tachyon Protocol (VSYS) Airdrop
Tachyon Protocol Airdrop is worth up to 22 VSYS tokens (~$ 1.55) to the first 4,000 participants. The Tachyon Protocol Airdrop is supported by V Systems.

About Tachyon Protocol & V SYSTEMS

Tachyon Protocol is a decentralized protocol for online privacy and security, which is co-launched by V Systems and X-VPN. Tachyon Network is built on the V Systems blockchain with the use of existing and tested technologies to ensure its lasting effectiveness, such as modular design, user-orientation, nodes and versatile application possibilities. VSYS Coin is the native currency for the V Systems blockchain platform which has already been listed on more than 15 major exchanges. Tachyon Protocol has been featured on CoinTelegraph.

V Systems, also known as VSYS, is a blockchain database cloud project that aims to create a secure underlying infrastructure platform for blockchain database. The project will deliver decentralized cloud database technology to carry out complex decentralized applications and support the operation of trillions of blockchains effectively, with high scalability, durability and performance. VSYS has been featured on Yahoo Finance.

Would you like to earn Ethereum with Airdrop Alert? Have a look at our NEW referral Airdrop
How to join the Tachyon Protocol Airdrop?
Tokens Per Airdrop Up to 22 VSYS
Tokens Per Referral No Referral Program
Max. participants 4,000
Requirements to earn free crypto coins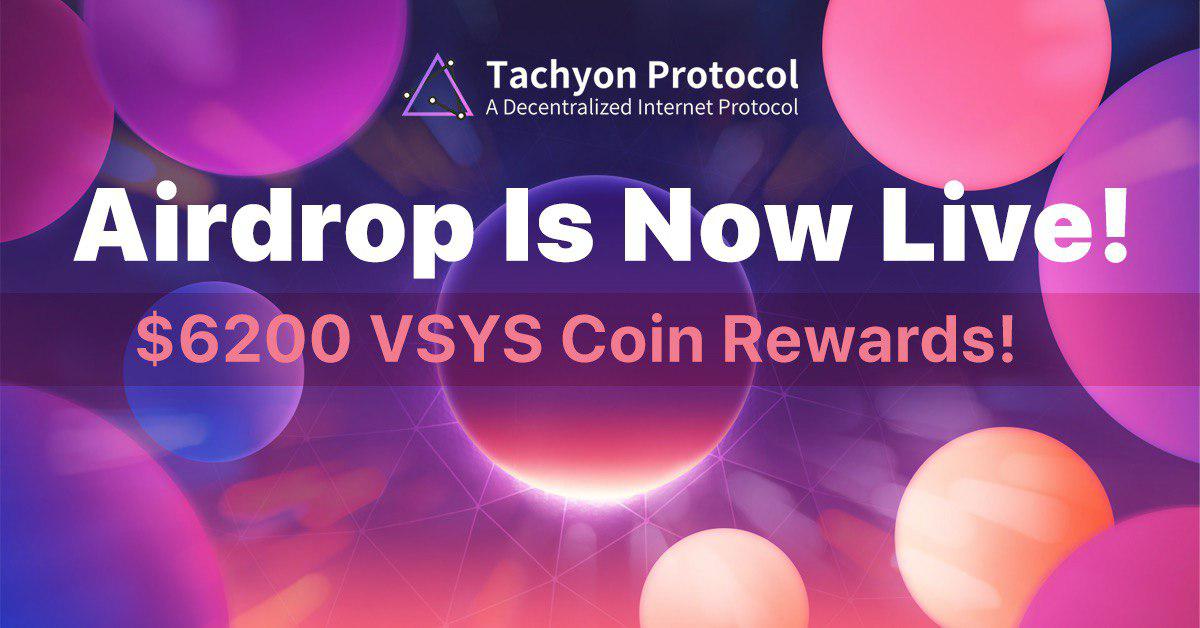 Native blockchain
Step-by-Step Guide Tachyon Protocol Airdrop
Go to the Tachyon Airdrop form.
Join Tachyon Protocol on Telegram. (8 VSYS)
Follow Tachyon Protocol on Twitter & Like and retweet the pinned post. (8 VSYS)
Subscribe to Tachyon Protocol on Reddit. (3 VSYS)
Subscribe to Tachyon Protocol on Youtube. (3 VSYS)
Post proof of participation on Bitcoin Talk Airdrop thread.
Submit your VSYS wallet address and other details to the Airdrop form.

For more information regarding the Airdrop & Rules, See the Official Announcement.

If you like the Tachyon Protocol Airdrop, don't forget to upvote and comment below.
Estimated value
~$ 1.55
Additional ICO information
VSYS rate 1 VSYS ≈ 0,07 USD
VSYS Circulating Supply 1,832,225,430 VSYS
VSYS Total Supply 3,747,083,894 VSYS
IPX Initial Supply 1 Billion IPX
IPX token Type Utility Token
Blockchain Standard V SYSTEMS blockchain
Tachyon Protocol Video