Unverified
The Crypto Prophecies (bTCP) Airdrop
The Crypto Prophecies Airdrop is worth $5 of bTCP tokens to use in the game! The Age of the Crypto Prophets is upon us. Summon your Prophet and go head to head with other players in this zero-sum price prediction game. Use your Prophets magic powers to gain the edge in battle. PLAY to Earn more!

About The Crypto Prophecies

The Crypto Prophecies is a decentralised peer-to-peer price prediction game that uses NFT characters called Crypto Prophets. Place your wager and go head-to-head with other players to battle it out over the candles, predicting how each one will close. It's a real-time points-based game and it's against the clock, so be quick with your predictions and watch out for your opponents magic spells! The Crypto Prophecies Game is developed by Quazard Financial Gaming.

StormGain Airdrop is worth Free 25 USDT tokens plus up to 15% Bonus on the first deposit.
How to join the The Crypto Prophecies Airdrop?
Tokens Per Airdrop $5 of bTCP tokens to use in the game
Tokens Per Referral Leaderboard based
KYC KYC is not a requirement
Requirements to earn free crypto coins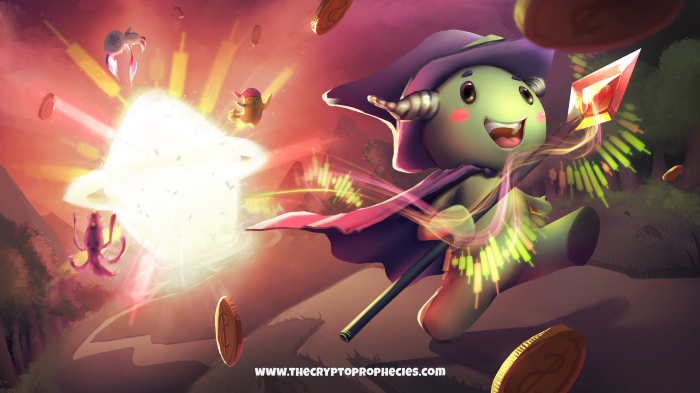 Native blockchain
Step-by-Step Guide ''The Crypto Prophecies Airdrop''
Sign up for The Crypto Prophecies Airdrop before the game launches, which is estimated for April 2021.
Confirm your email & Copy your referral link.
Join The Crypto Prophecies on Telegram.
Complete the sign-up form, entering their MetaMask wallet address, email address and Telegram username.
Create a Crypto Prophecies game account (when the game launches) using the same MetaMask wallet address and email address that was used to initially sign up. Your crypto prophets are your secret weapon, summon them, nurture them, and use their magic to overthrow opponents in the fabled Battle Arena. Build your empire of wealth and forge your very own Crypto Prophecy.
Own an authentic and original Crypto Prophet (NFT) character and have this stored in the same MetaMask wallet that the game account is connected to. These will be sold directly to players in The Crypto Prophecies Game and may also be available on trusted third-party NFT marketplaces and exchanges.
Invite your friends to earn $5 of bTCP tokens to play for every friend that signs up and plays.
bTCP tokens are non-transferable and only usable in the game and are equally matched with TCP tokens and automatically exchanged 1:1 when used in the game's smart contract. For more information, please check the Medium blog.
If you like The Crypto Prophecies Airdrop, don't forget to Like/Comment below.

Disclaimer: Investors should take the time to research any given product before they invest their funds. ''Buy Crypto with a Credit Card''
Estimated value
~$ 5 + referral
The Crypto Prophecies Video