Unverified
TOMI ($TOMI) Airdrop
TOMI Airdrop prize pool is worth $75,000 in $TOMI tokens for 45 random lucky participants over the next 2 weeks:
▪️ One lucky winner will win $5,000 worth of $TOMI
▪️ Four lucky winners will win $2,500 worth of $TOMI each
▪️ Forty lucky participants will win $1,500 worth of $TOMI each

About TOMI

TOMI is a decentralized project that aims to power scalable projects with transformational impact on their communities.
TOMI (富) is a Japanese term for wealth, which prioritizes wealth concurrently with positive societal impact. TOMI aims to bring abundance and prosperity, and promotes and empowers charitable actions.
TOMI Token is launched on the Polygon Network through Sushiswap due to the high Gas Fees on the Ethereum network. All tokens on Polygon can be transferred to ETH network as the user sees fit.

How to join the TOMI Airdrop?
Total Airdrop Allocation $75,000 in $TOMI tokens
Number of Winners 45 Random Lucky Winners
Airdrop End Date 1st November, 2021, 09:00 EST
Requirements to earn free crypto coins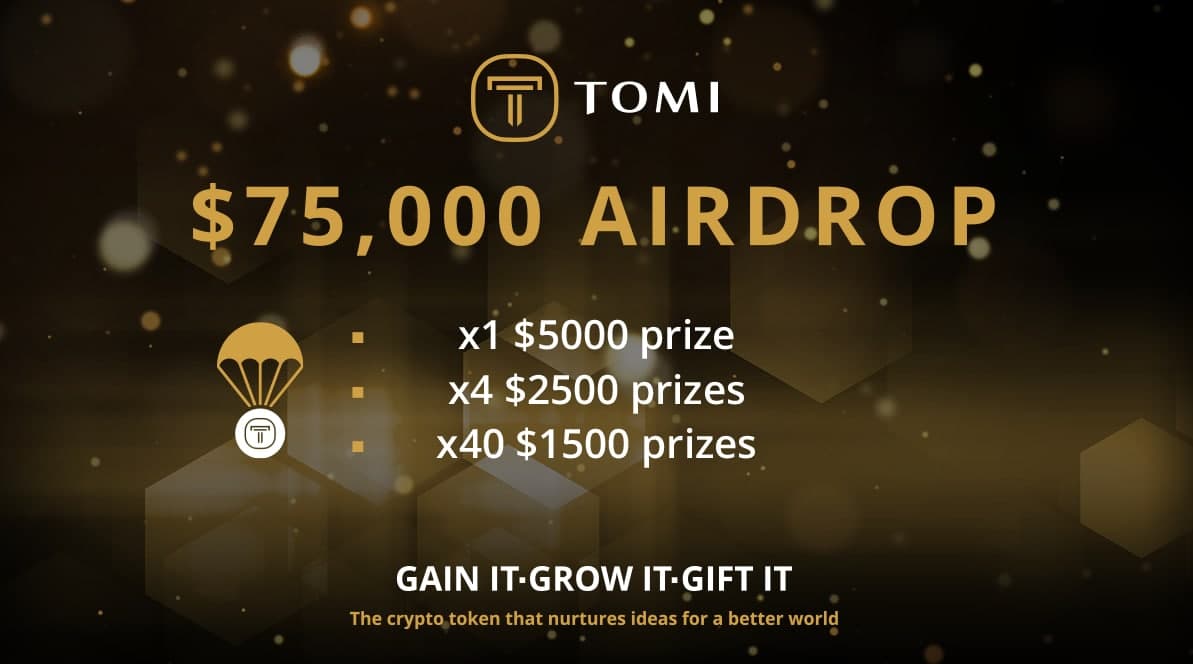 Native blockchain
Step-by-Step Guide ''TOMI $75,000 Airdrop''

To promote the use of TomiSwap and build Tomi's community, for a limited time they will be compensating participants with A LOT of extra $TOMI tokens by organizing a bunch of different Contests & Giveaways. Requirements for the participants are minimal, and the prizes are huge! When using decentralized applications (ÐApps), it's critical to remember that YOU are responsible for the security of your digital assets!
Note: This Airdrop is labelled with the ''Unverified'' label because the team is anonymous & Smart contracts have not been audited yet!
Don't forget to like and comment below if you joined the TOMI Airdrop!
Disclaimer: Investors should take the time to research any given product before they invest their funds (DYOR). "Buy Bitcoin with Credit Card"
Estimated value
~$ 75,000 Prize pool