Verified
TranslateMe (TMN) Airdrop
TranslateMe Airdrop is worth 1 Million TMN tokens (~$ 1200) in total. Simply chat in their participant groups on telegram with the translation tool activated and earn 1 TMN per message sent.

About TranslateMe

TranslateMe has developed a unique approach to natural language processing. It will be the first to train an algorithm with its own corrections, by using the original data of a machine and comparing it the corrections of a human contributor. Typical neural networks require large amounts of data to affect the algorithm in a positive manner, but TranslateMe's process is about 90% more efficient at correcting the machine's output. This makes the data submitted extremely valuable and will enable TranslateMe to rapidly develop a commercial product.
TranslateMe reduces costs with blockchain and builds an ecosystem for all that's built by all, this means all contributions are pooled to a single point of success and the efforts are not divided but united. Distribution of work and wealth the way it should be. TMN token is being traded at Probit Exchange.

Would you like to earn Ethereum with Airdrop Alert? Have a look at our ETH referral Airdrop!
How to join the TranslateMe Airdrop?
Tokens Per Airdrop 1 TMN per message sent
Referral program No Referral Program
Total Airdrop allocation 1 Million TMN
Requirements to earn free crypto coins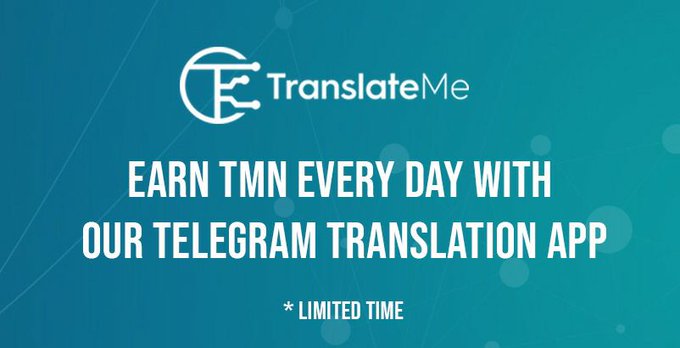 Native blockchain
Step-by-Step Guide TranslateMe Airdrop
How to earn TMN on Telegram Translator App
Visit the GooglePlay store and download the TranslateMe App.
Open your menu on the app and select ``Earn TMN``.
Chat in one of the groups with translation activated. TMN paid for complete sentences only.
Earn 1 TMN for each message translated. Minimum Claim is 1000 TMN.
How to Claim after Earning
Go to Menu & Click to Claim.
Redeem TMN & Download recommended NEO Wallet.
For more information regarding the Airdrop & Rules, See the Official Announcement.

If you like the TranslateMe Airdrop, don't forget to upvote and comment below.
Estimated value
~$ 1200 in Total
Additional ICO information
Blockchain Platform NEO Based Utility Token
Circulating Supply 300,000,000 TMN
Headquarters Durban, South Africa
TranslateMe Explainer Video