Closed
Verified
Tune Token (TUNE) Airdrop
It looks like you are too late! This airdrop is closed
Looking for new airdrops?
Visit our Featured & New Airdrops pages.
Tune Token Airdrop is worth up to 650 TUNE tokens. Invite friends with your referral link to earn 50 TUNE tokens for every referral.
About Tune Token
Tune Token, formerly known as RecordGram, is a decentralized music production marketplace. Tune Company is a software development and management company primarily focused on creating blockchain based technology, smart contract design and digital tokenized applications. Tune's primary mission is to solve digital songwriter rights and royalty transparency issues for the music industry. Furthermore, the establishment of their tokenized products will enable applications the ability to offer user tipping and user/community incentivized rewards thru the sharing, creation and engagement of content as well as other features.
After the Tune Token Airdrop first round, Tune Token is now airdropping free TUNE tokens to airdrop participants in the second round.
How to join the Tune Token Airdrop?
Tokens per airdrop up to 650 TUNE
Tokens per referral 50 TUNE
Total Supply allocated for Airdrop 15,000,000 TUNE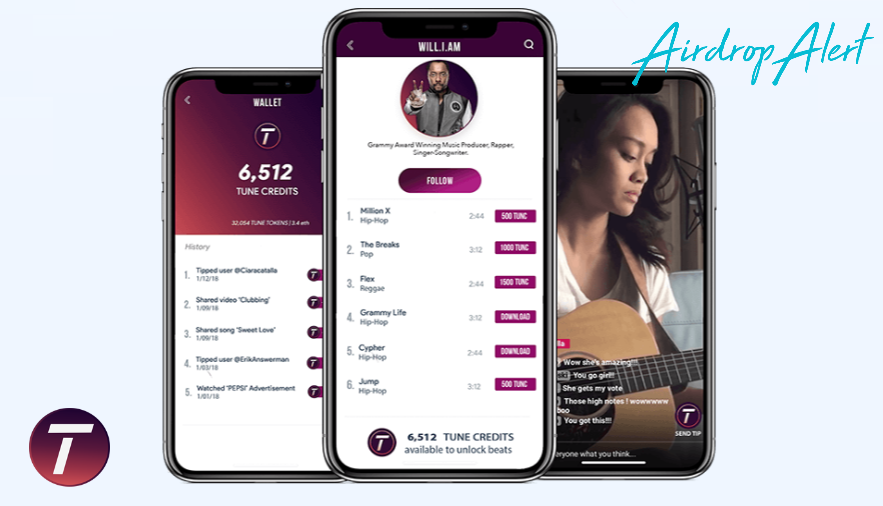 Native blockchain
Step-by-Step Guide Tune Token Airdrop
Chat with the Tune Token Airdrop bot.
Join Tune Token on Telegram. (Mandatory, + 100 TUNE)
Complete the optional tasks to earn up to 550 TUNE tokens.
Submit your mail, ETH Wallet Address and other details to the bot.
After completing all of the tasks, you will receive 650 TUNE tokens which will be airdropped to your wallet at the end of August, 2019.
Invite friends with your referral link to earn 50 TUNE tokens for every referral.
If you like the Tune Token Airdrop, don't forget to upvote and comment below.
Estimated value
n/a
Additional ICO information
Token Ticker TUNE
Token Value 1 ETH = 12,200 TUNE
Country Cayman Islands
Tune Token Video